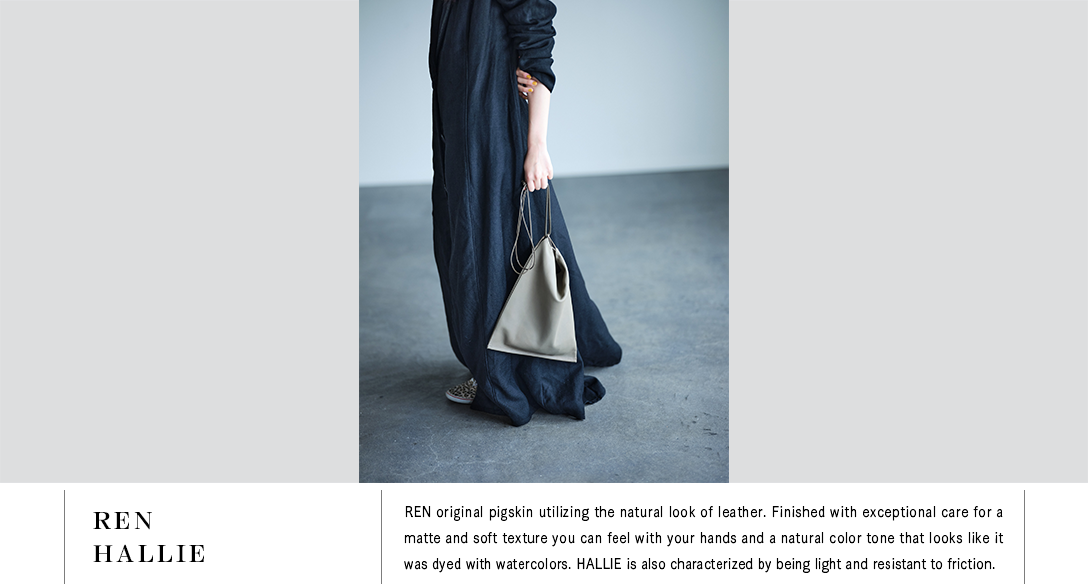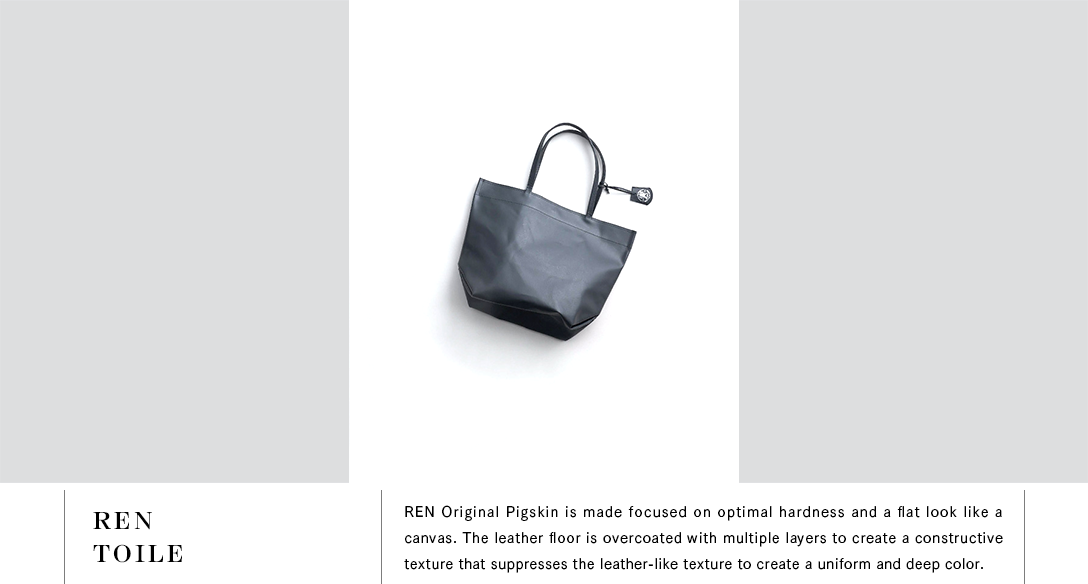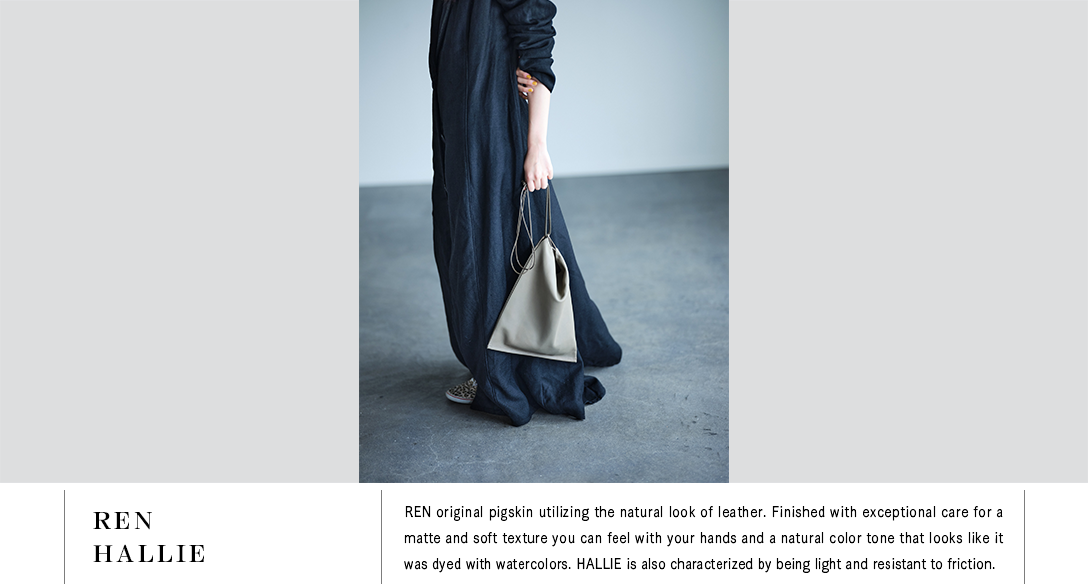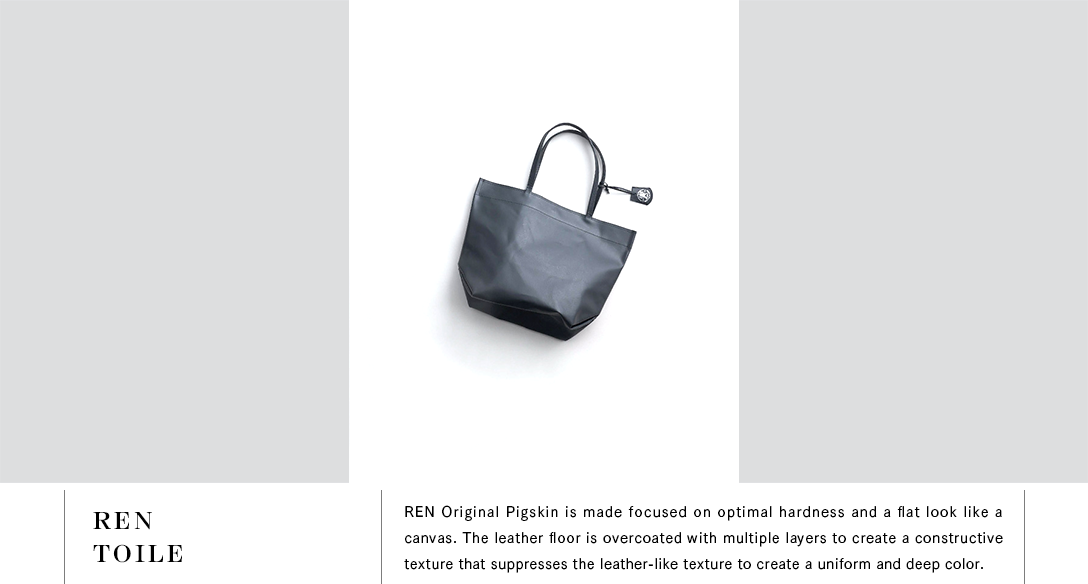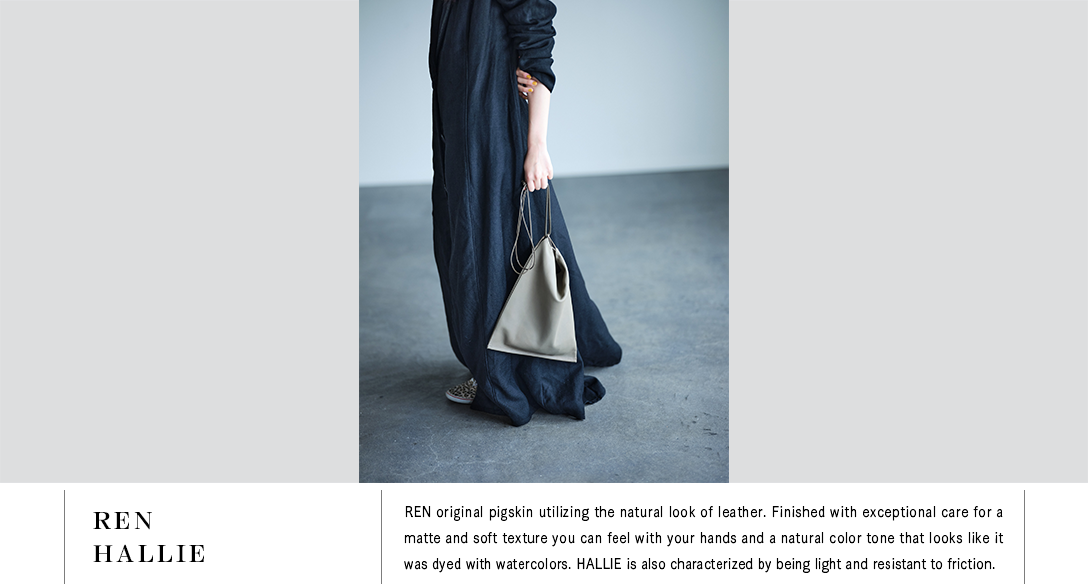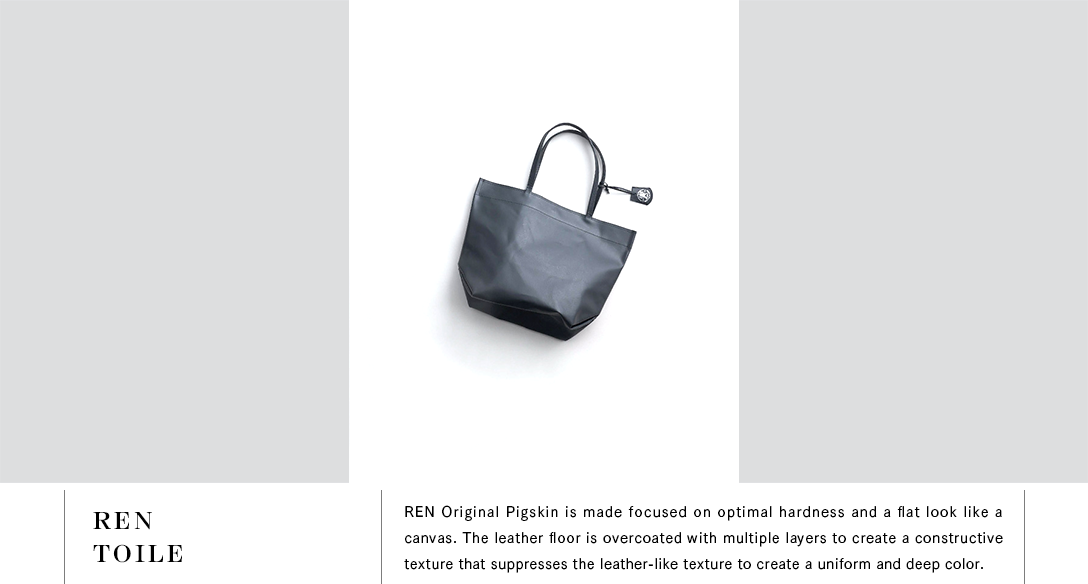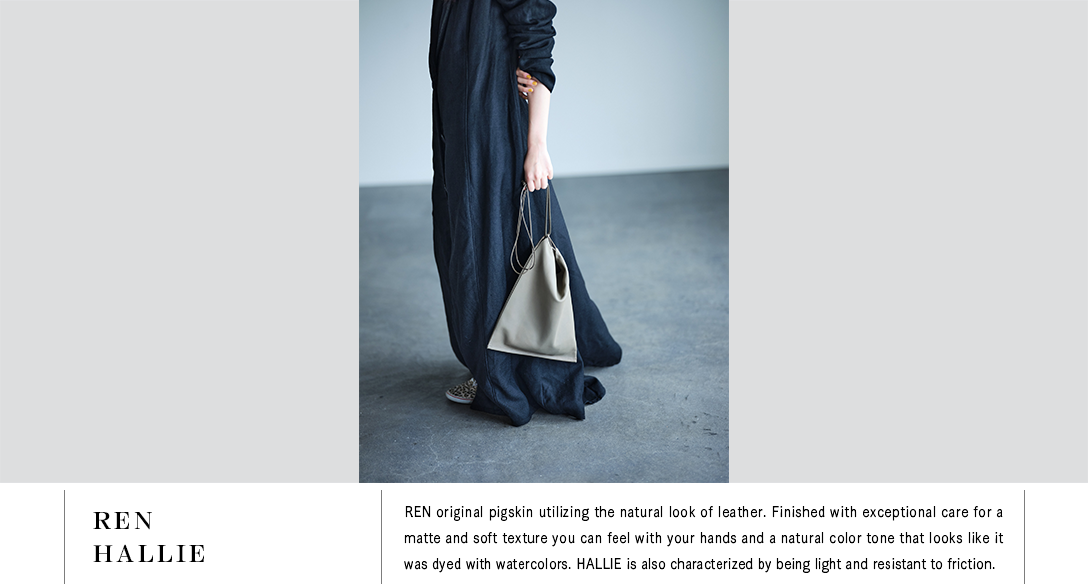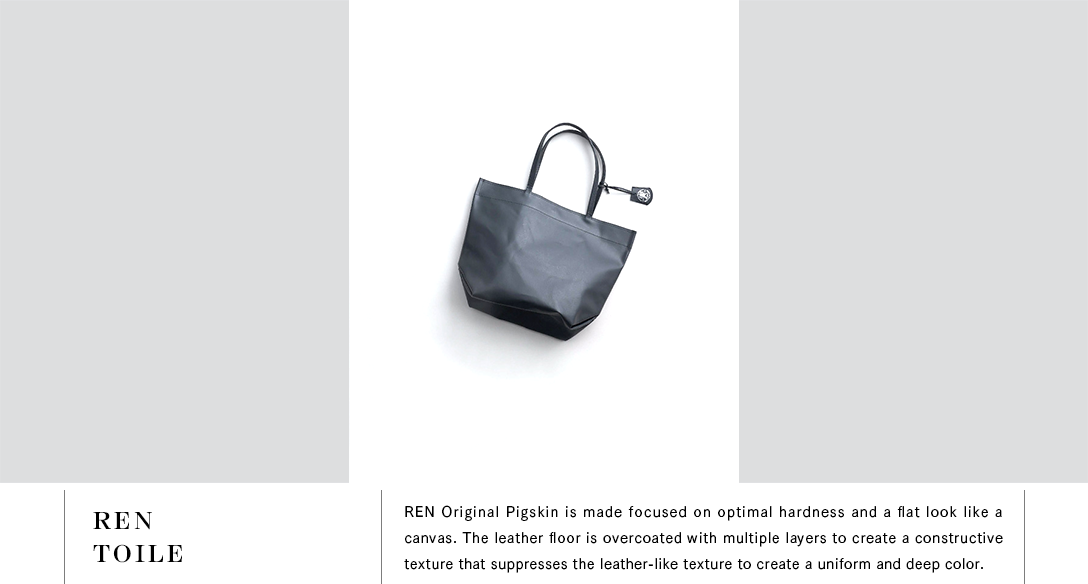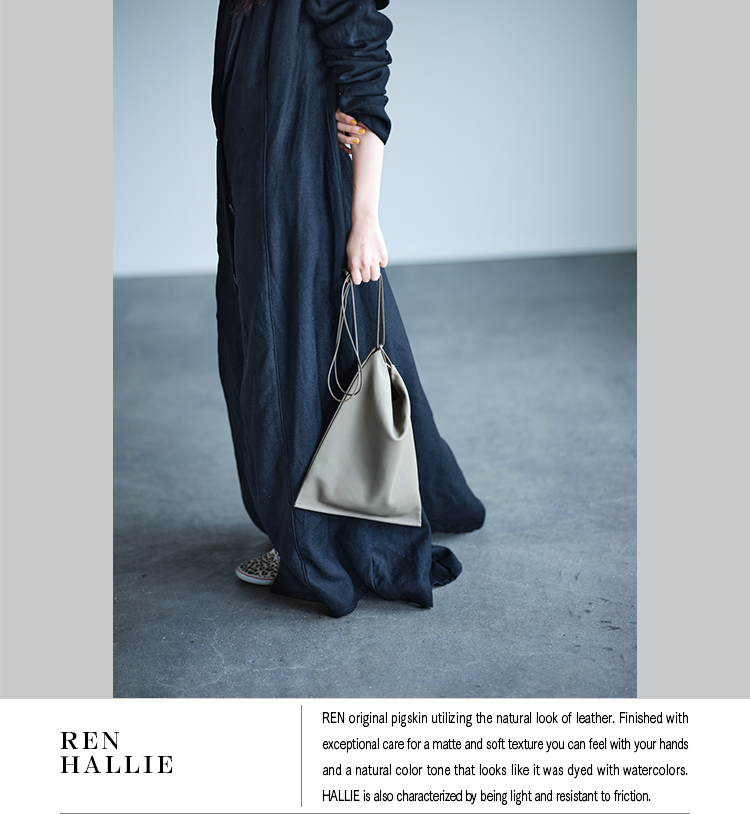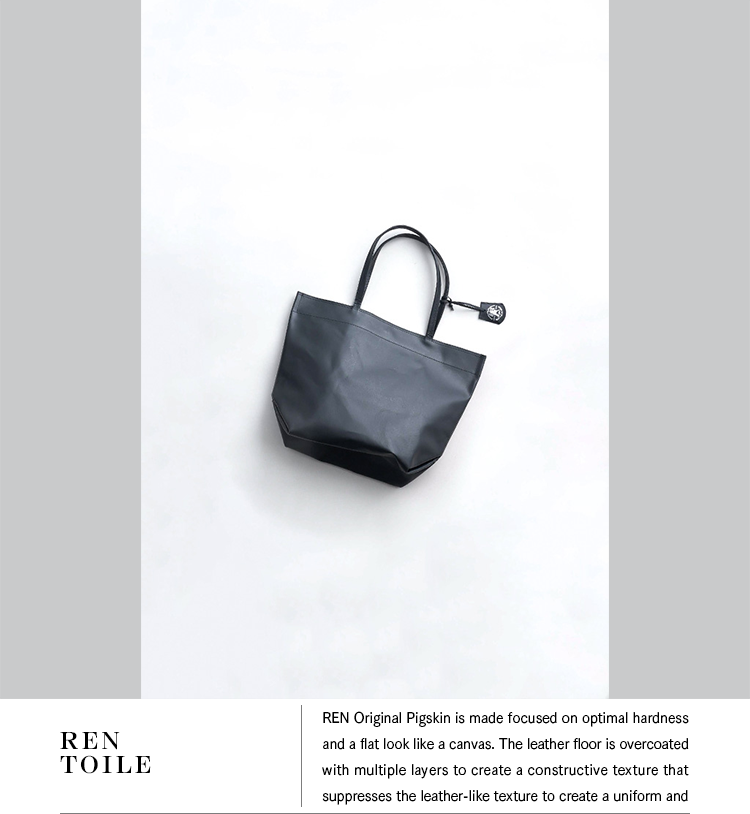 Busdemshut Co., Ltd.
Dai Yanagimoto
RE New Standard
We want our customers to use it as a daily item without worrying that it's made of leather. REN was birthed from this desire.
To realize this dream, the product must be solid and light. It doesn't have to be cowhide.
The item doesn't have to be clean forever like a new product. It's best not to create things that are thrown away so easily.
(Do we really need bags that would be thrown away immediately?)
We should choose things because we like them instead of just so someone would like it.
Will you take the used state as texture or deterioration? We think deterioration is also good. Scratches, stains, and wrinkles are also wonderful elements of the special item.
We should always have the spirit of recycling and DIY because we live in such a time.
This is REN's new standard that hasn't changed since the brand was born.
We care about various things, from choosing and using items, values, and ways of life considering our impact on society.
We will remember each passion again, aspire to realize it, and create our products.
Providing a new value of "leather"
REN proposes a new standard that removes preconceptions, recapturing them with our own values.
The symbol is the pig leather "HALLIE," our standard material. About 15 years ago, when the brand was just launched, cowhide was mainstream leather. However, we were looking for other materials because we were searching for a way to establish our own value.
This was when I came across pig leather (pigskin). Although it has the advantages of being durable, light, and breathable, it is not commonly used due to the pores that stand out, scratches, and uneven color. It is generally used as a backing material for bags and insoles for shoes.
I sensed an unknown possibility in such pig leather. Utilizing aspects we thought we "couldn't use," seeing scratches and uneven color as one of the individualities of leather, we tried to see it as something we could "use."
Also, unlike cow and goat skins imported from overseas, all pigskins are domestically sourced. In fact, the pigskins are sourced from pigs after the meat has been utilized as food. This cycle was also in line with REN's values of not wanting to waste raw materials.
It is essential for us to utilize the good quality parts of the leather.
The first priority is to select the thick and uniform part in density, which corresponds to the back of the pig, and cut it so that scratches and uneven color do not stand out as much as possible. The inclusion of abdominal skin to some extent also leads to suppleness and lightness. The craftsmen's skills are tested the most during this process since every piece of leather is unique.
Leathercraft workshop
REN's original workshop kit was born from our desire for our customers to enjoy their time at home. No special tools are needed.
You can easily make it by tying it through a leather strap. You can use it like a wallet or a card and use it freely as your heart desires as it has a two-pocket structure with a partition. The kit uses "Pig Leather HALLIE" that is easy to handle, even for beginners. People who are new to leathercraft can also enjoy it with confidence.
We invite you to enjoy leathercraft as you spend your time at home.
https://ren-webshop.com/fs/renbag/c/handmade
Contact
Founded

2002

Capital

3 million yen

Company Info

Planning, production, and sales of leather products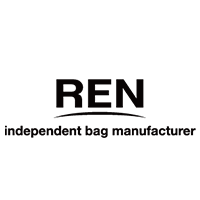 Busdemshut Co., Ltd. / Dai Yanagimoto
4-13-4, Kuramae, Taito Ward, Tokyo, 111- 0051
Phone : 03-5829-6147 FAX : -  Mail : info@ren-webshop.com