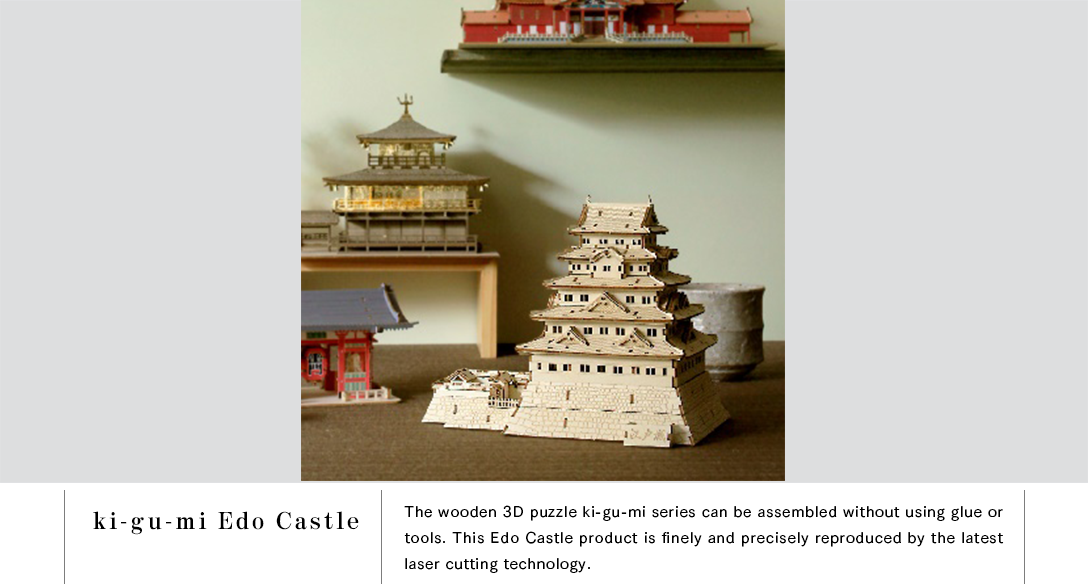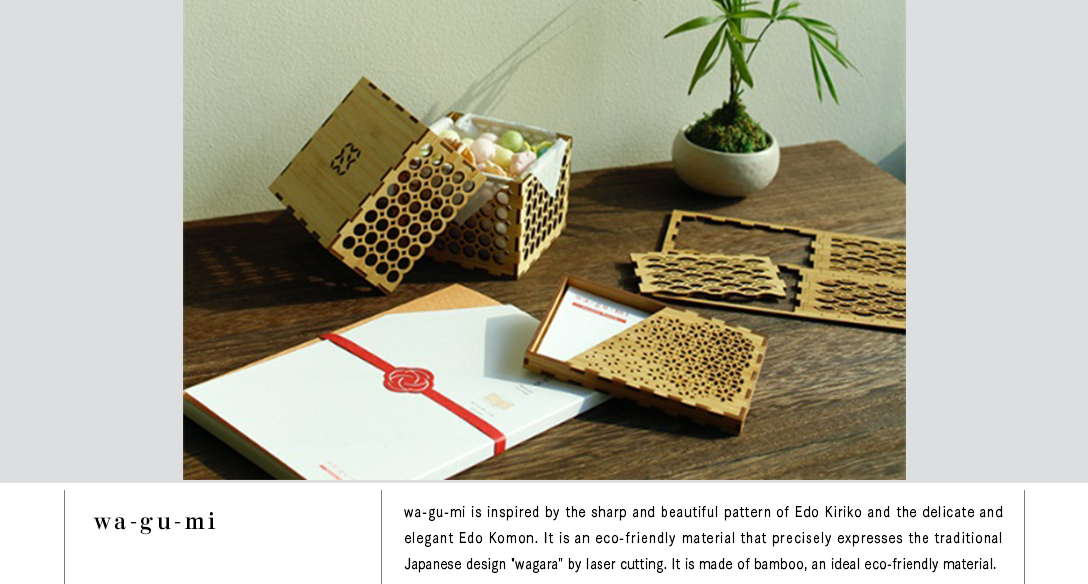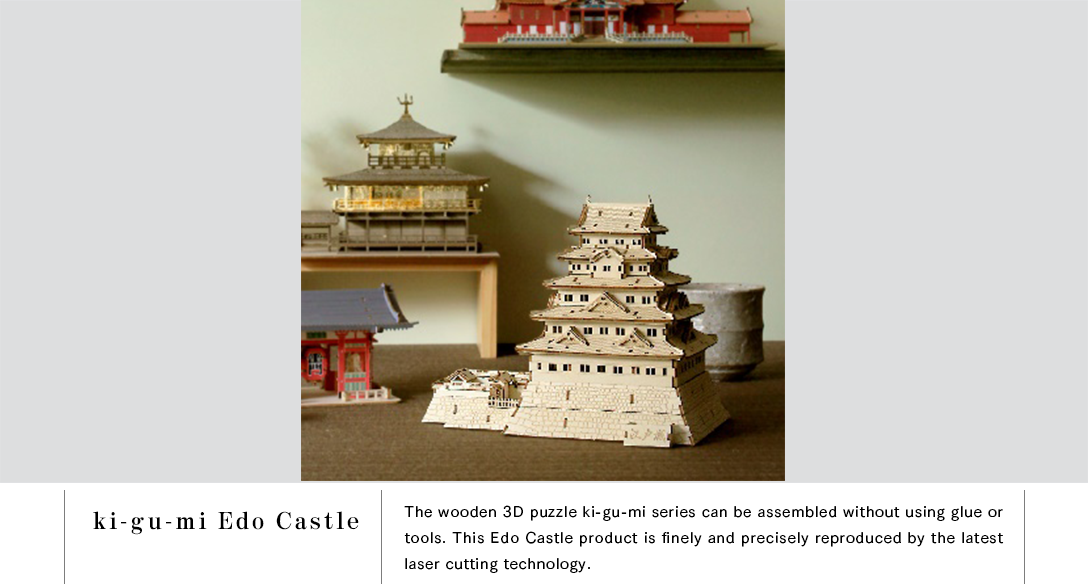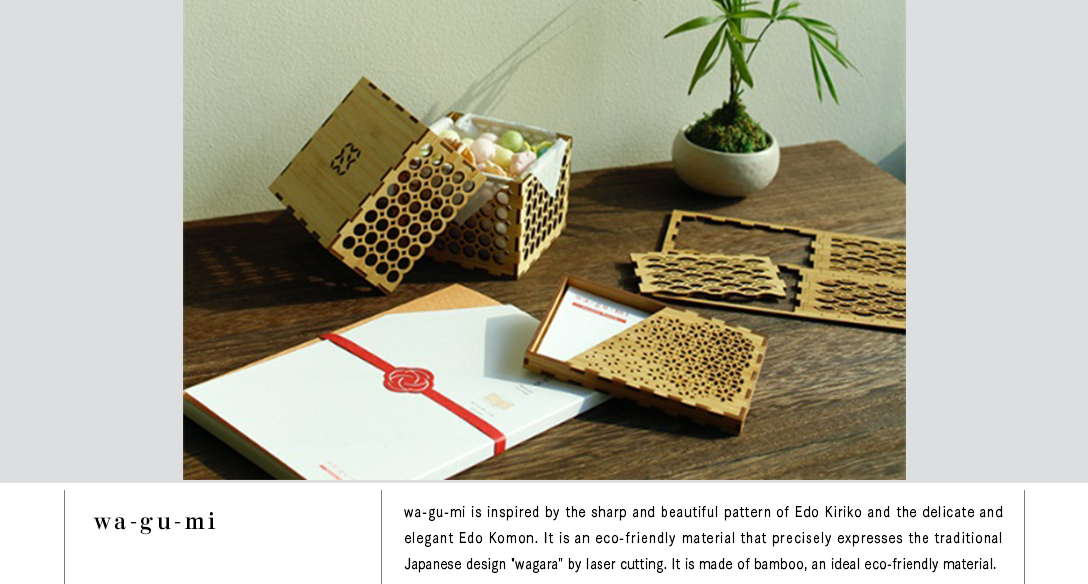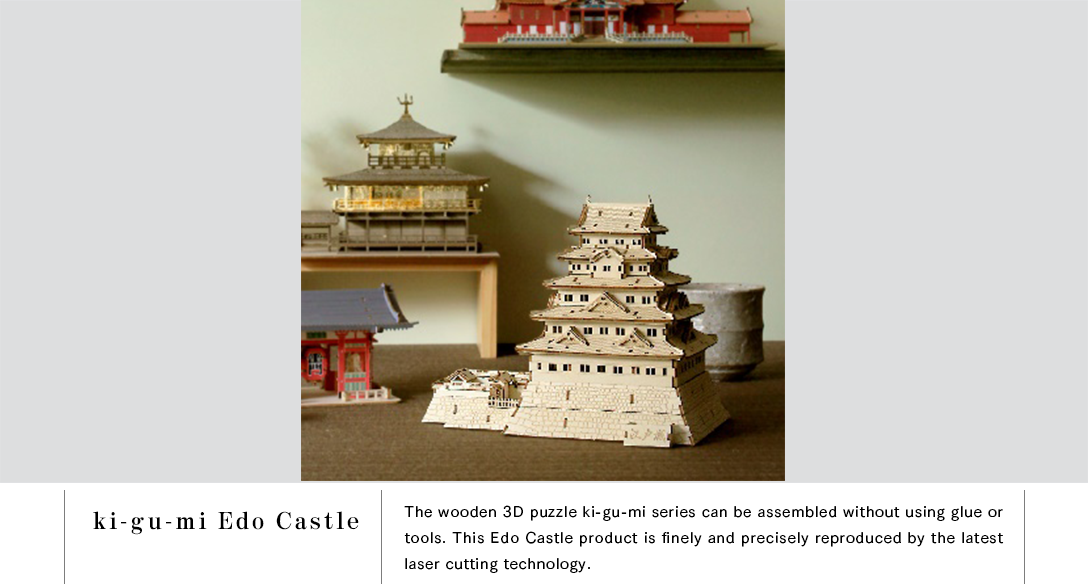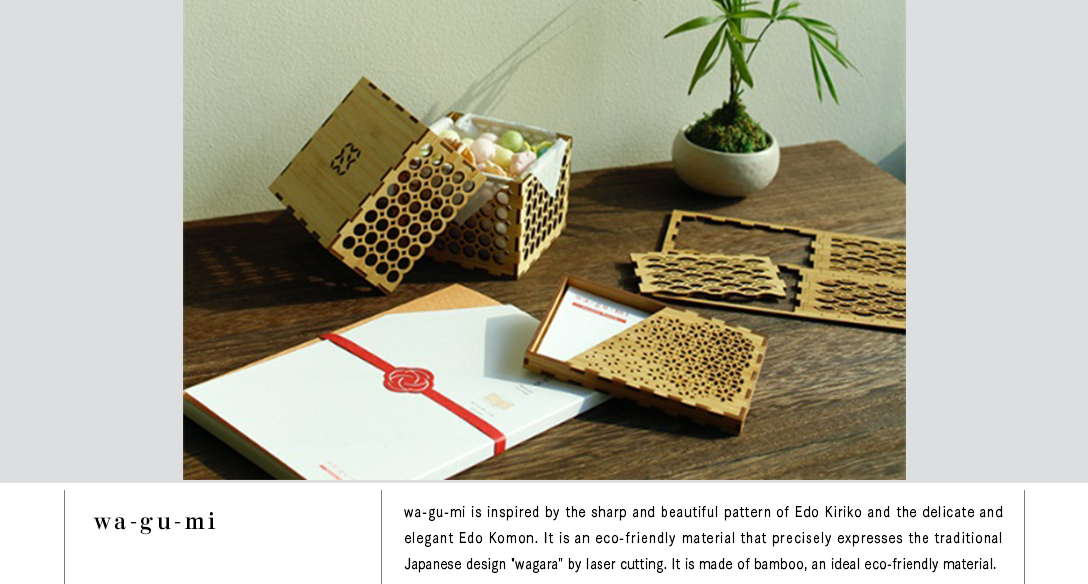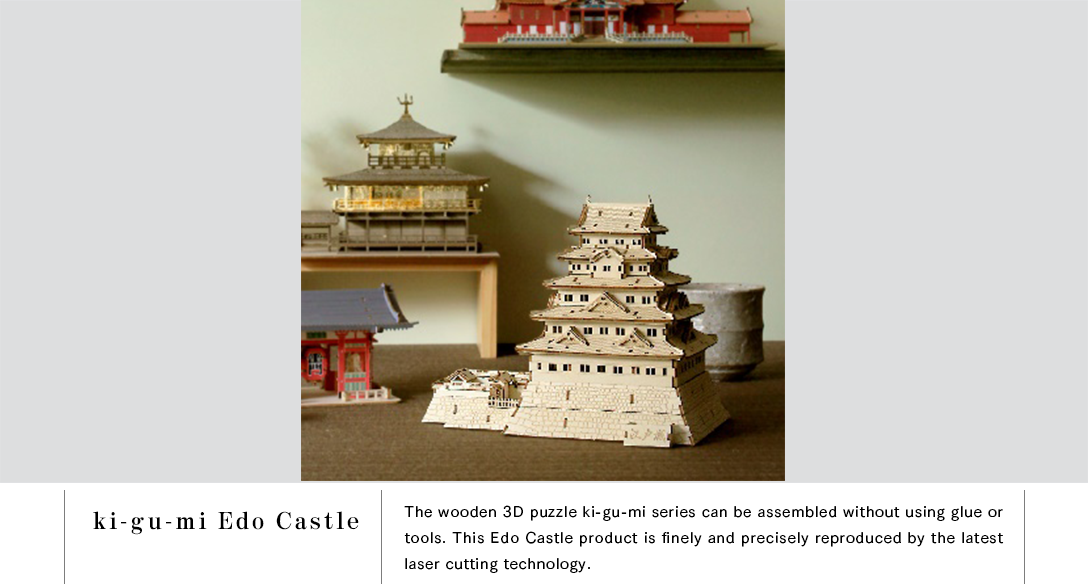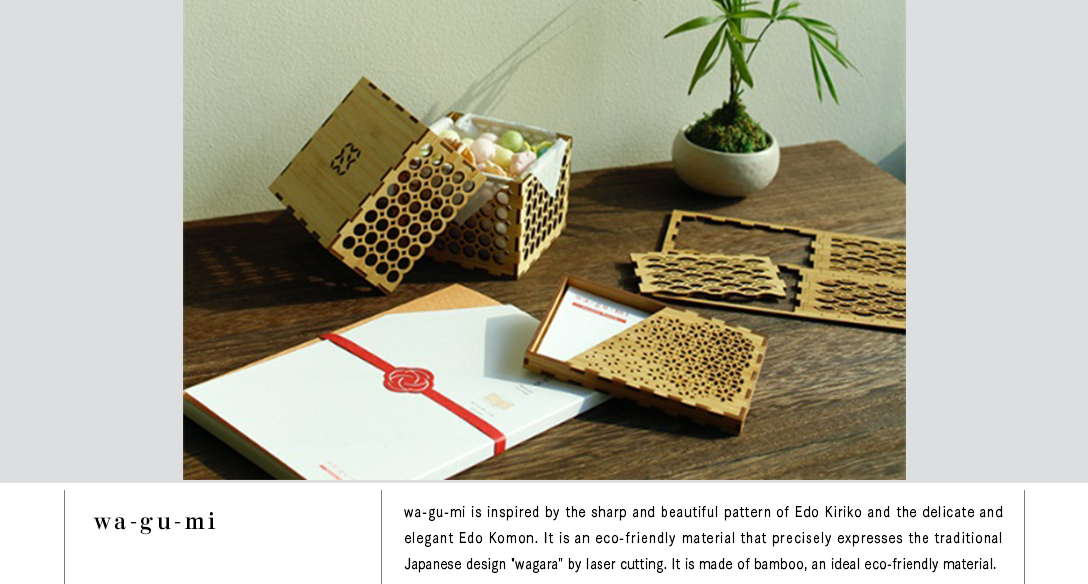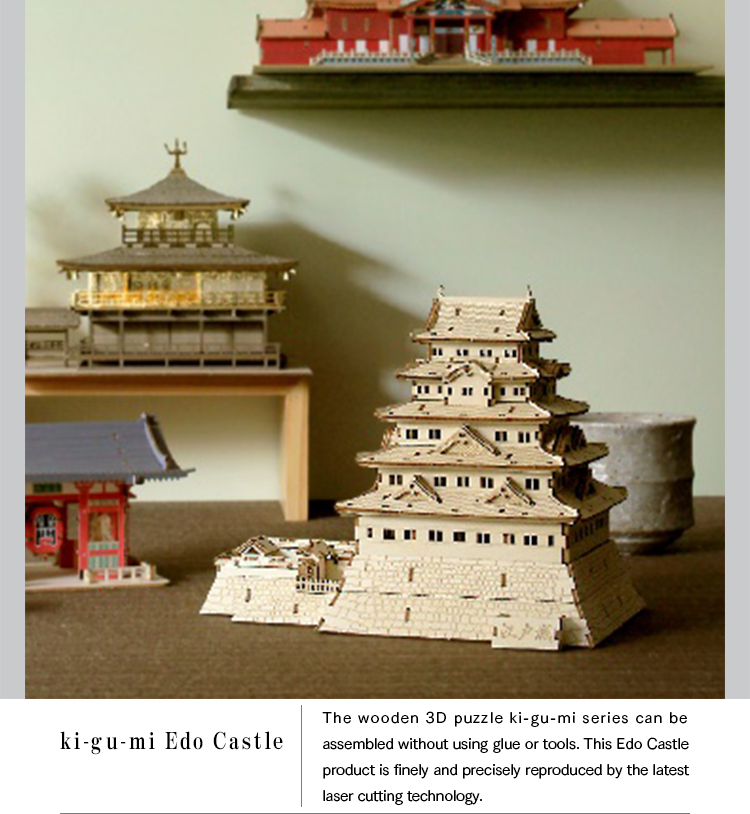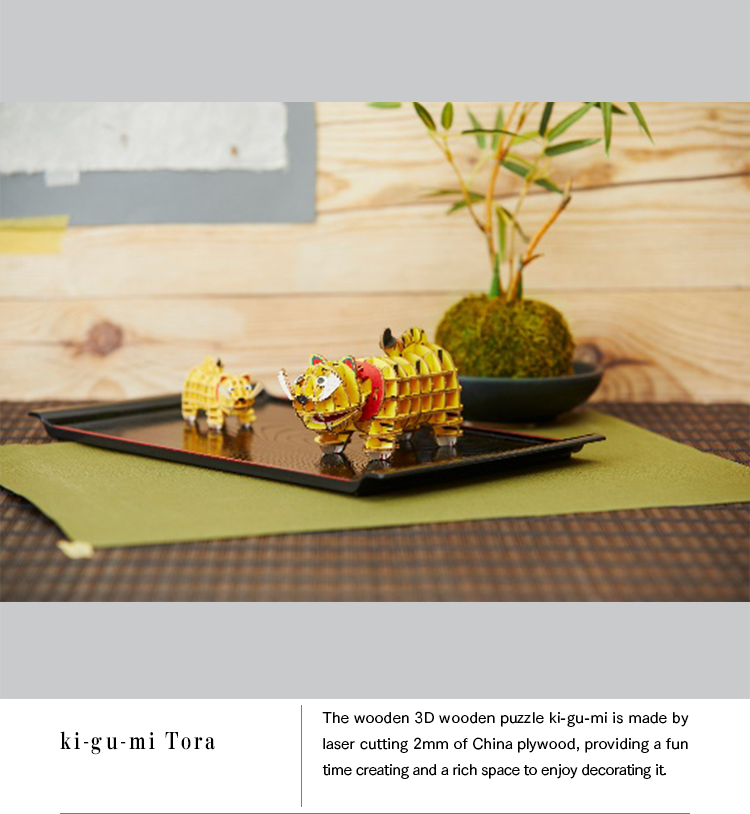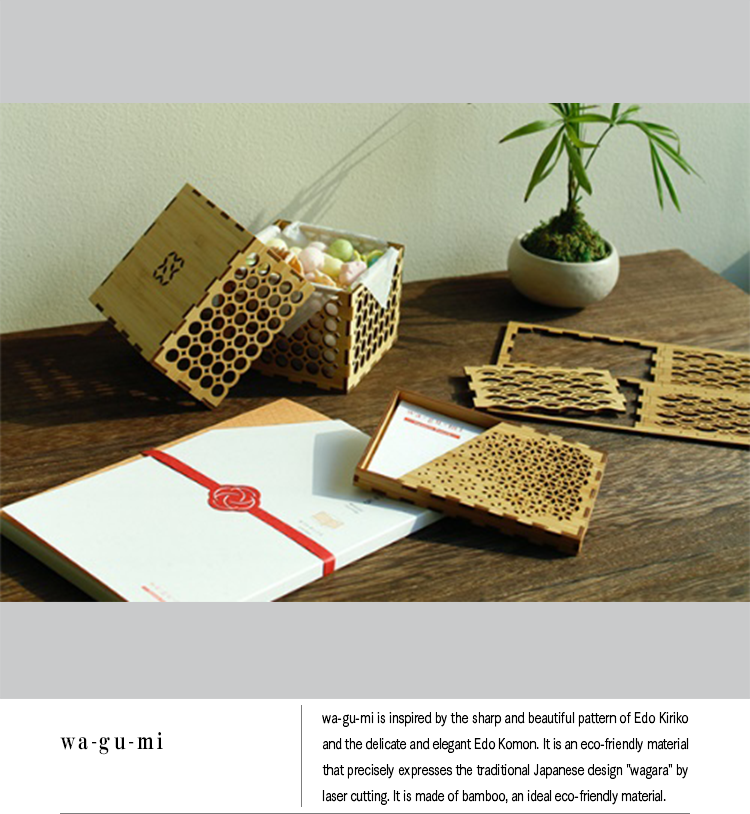 Azone Co.,Ltd.
Kenji Yokoseki
Bringing the joy of creating and decorating from TOKYO to the world
Our "Wooden Art ki-gu-mi "was born in 2015, based on the concept of "create, decorate, and use." It was born from our desire to make people all over the world feel the spatiotemporal value of cultural innovation that has never existed before and our passion for aspiring to enrich people's lives. We have developed products with various motifs, including traditional Japanese buildings that have been precisely reproduced, to cute animals. In 2020, the "Japanese pattern wa-gu-mi" series was born. The wa-gu-mi series, which precisely expresses the traditional Japanese design "wagara" by laser cutting, is a modern and simple design. The unique design is realized by combining it with the laser cutting technology that is evolving daily while being classical.
wa-gu-mi's material, bamboo, is considered one of the congratulatory plants that symbolize vitality. Bamboo grows with almost no chemical fertilizers or pesticides. It is an eco-friendly material that effectively utilizes everything. We hope you will enjoy the aroma of wood and bamboo, the joy of assembling while feeling the warmth from your fingertips, and the coloring of the space after it is completed.
Combining traditional design, abundant design know-how, and the latest technology
We carry out everything from planning to design and design. We strive to deliver better products to our customers daily by accumulating know-how such as assembly technology and design that is easy to incorporate and difficult to remove. The evolution of laser cutting technology has enabled creating fine and elaborate expressions and bent curves that seem difficult to express with wood at first glance. The reproducible construction structure parts are elaborately expressed as much as possible, not to mention the details in ki-gu-mi's building-related items. You can experience feeling like a palace carpenter while creating it.
The wa-gu-mi was born inspired by the Edo Komon, which looks plain from a distance but shows intricate patterns designed in a "chic" way when looking up close. It looks like a simple and modern craft product at first glance, made possible by finely expressing the traditional pattern on the surface of the bamboo material by laser cutting. However, this item allows you to feel the meaning of the classical pattern from the visual and tactile senses when you hold and assemble it yourself. The wa-gu-mi gift box is designed with the calculated amount of light from Edo Kiriko as a clue, allowing you to enjoy the scenery of light and shadow after completing it.
Contact
Founded

2011

Capital

6 million yen

Company Info

1. Original brand business such as wooden 3D puzzle "ki-gu-mi" bamboo craft "wa-gu-mi" paper 3D puzzle "si-gu-mi."
2. OEM business from concept work related to electronic toys to commercialization.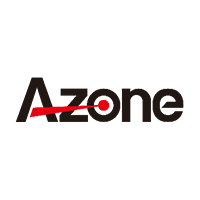 Azone Co.,Ltd. / Kenji Yokoseki
Atagoyama Lawyer Building 301, 1-6-7, Atago, Minato Ward, Tokyo 105-0002
Phone : 03-6402-0167 FAX : 03-6402-0168  Mail : info@azone.biz