DOMYO Co., Ltd.
Representative Director and President Domyo Kiichiro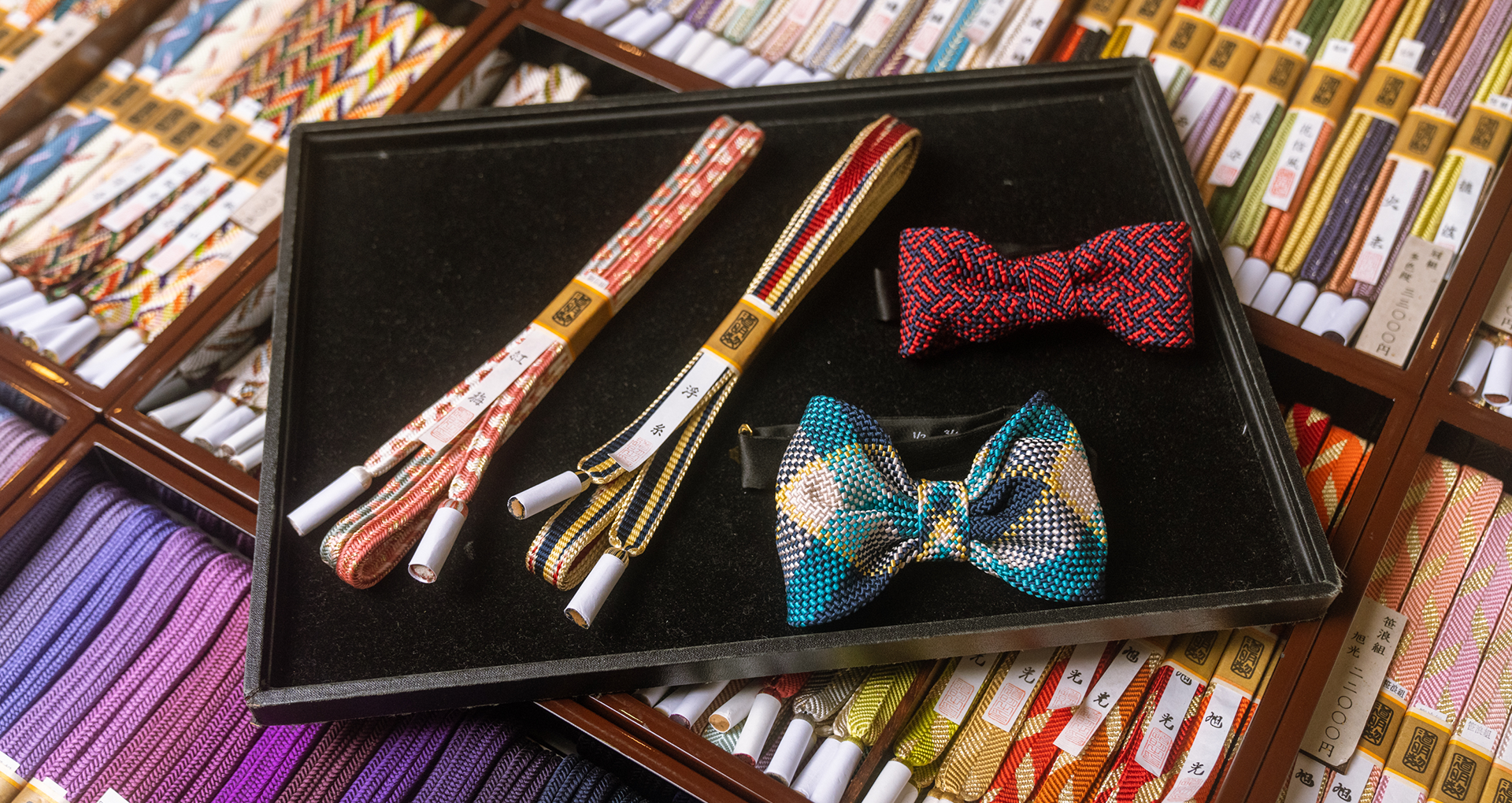 The sophisticated skills and intricate colors and patterns of kumihimo are unique to Japan.
Aspiring to expand globally through the Buy TOKYO Promotion Project.
 Domyo was founded in 1652 and boasts a long history of producing kumihimo cord products. Domyo has continued to produced kumihimo products according to what was needed in the different times. In the Edo Period, it made the sageo, a cord that held the sword, and kumihimo used for armors. In the Meiji Period, it made obijime, beautiful cords to accentuate the obi belt wrapped around the kimono. It was no surprise that it pioneered a new field in 2015, considering the global era we live in today. Mr. Kiichiro Domyo, Domyo's current president, launched the Western clothing line "DOMYO." He shared his aspirations to expand Domyo overseas and what brought him to this goal.
"Domyo is pouring its efforts in raising new kumihimo artisans by holding classes in Kagurazaka. We learned that people from overseas who studied there are opening their own classes after returning to their home country. This has led to the birth of different KUMIHIMO craft communities in different countries. While "braiding" done by tying threads does exist overseas, Japan's kumihimo is special and unique. The way an artisan uses the delicate colors, the story development that is done by changing the colors and the patterns, and the attention to detail, all of these qualities are essentially "Japanese." I believe people overseas are drawn to these qualities."
 Since the launch of DOMYO, Mr. Domyo has developed a wide range of products with a renowned Japanese designer who has worked with high-end British brands. The company was exhibiting at Japanese exhibitions its new lineup, including the ties, bowties, brooches, bracelets, pierced earrings, and earrings. But it was still unable to pioneer sales and PR activity channels overseas. He happened to know about the Buy TOKYO Promotion Project during such a time.
"My acquaintance in the fashion industry had been receiving support from this project. He recommended it to me and told me that I would be able to receive all kinds of support, which would fit our situation as we wanted to expand overseas." I applied in 2020 and started receiving support from August 2020.

Scrapped travel plans caused by COVID-19 drove Domyo to develop new products.
The possibility for the future enlarged through a new collaborator realized by expense subsidies!
 DOMYO was scheduled to exhibit at an exhibition in Paris at the time of March 2020. However, the entire plan was canceled due to COVID-19. Mr. Domyo was still unable to travel even as time passed. However, the postponed overseas exhibitions brought unexpected benefits.
"We could focus more of our energy and efforts on developing products because of the different circumstances that were taking place. The Buy TOKYO Promotion Project provided financial support for the design consignment. This allowed us to partner with people in fields that we had never worked on, including architects and mathematicians. "
 Unique products born from new perspectives were born by receiving ideas from different artists.
"I now want to sell kumihimo itself as a material instead of only kumihimo products. We will ask overseas brands to use our kumihimo as parts when making clothing. Kumihimo can be used not only for accessories and interior design objects. Suppose the materials are changed, and the know-how of assembling is industrialized. In that case, it may be used in the fields of medicine and advanced science. I believe that the future of kumihimo is much broader than what we had initially imagined. "
Consulting a wide range of topics from SEO measures to using YouTube effectively during the hands-on support.
Securing overseas sales channels on cross-border e-commerce websites with the advice of the advisor
 As new products and ideas emerged, Domyo steadily advanced market development and public relations activities. For the hands-on support of the Buy TOKYO Promotion Project, Mr. Domyo asked for advice regarding SEO measures.
"The advisor taught us SEO measures and also told us that it would be difficult to sell our products overseas on the e-commerce website that we had been using. We are now in the process of recreating a brand website/e-commerce website and shifting to a cross-border e-commerce website. I decided how the cross-border e-commerce website should look like by receiving the advice from my advisor."
 Although Mr. Domyo had been actively using YouTube and Instagram before receiving support, he could use them more effectively after receiving advice from his advisor.
"It's helpful to be able to speak directly with your advisor. This is a genre amateurs have a really hard time understanding even if they read a book. "

Shifting to a lively PR activity that had been postponed through expense subsidies.
We want to be globally recognized as
a "brand produced by TOKYO′s traditional crafts maison"
 At the time of the interview, there were five months left out of the two-year support period for the Buy TOKYO Promotion Project. There are several plans left for public relations.
"From now on, we plan to announce new products at domestic exhibitions and produce pamphlets using models. Thanks to the expense subsidies, we are able to invest money in public relations activities that have been postponed until now. "
 According to Mr. Domyo, the company is halfway done in its preparation to expand overseas. The ultimate goal is for DOMYO to be recognized as a "luxury brand from TOKYO."
"I would like kumihimo to first be a part of the daily lives of the people of Europe, the fashion center of the world. Instead of looking at kumihimo as a foreign craft, I would love people to use DOMYO in their everyday lives, telling others, "This is KUMIHIMO, right?" My desire is that the Japanese people will pay special attention to DOMYO as it becomes a globally renowned brand."