Ohba Glass Processor Co., Ltd.
President OHBA Kazutoshi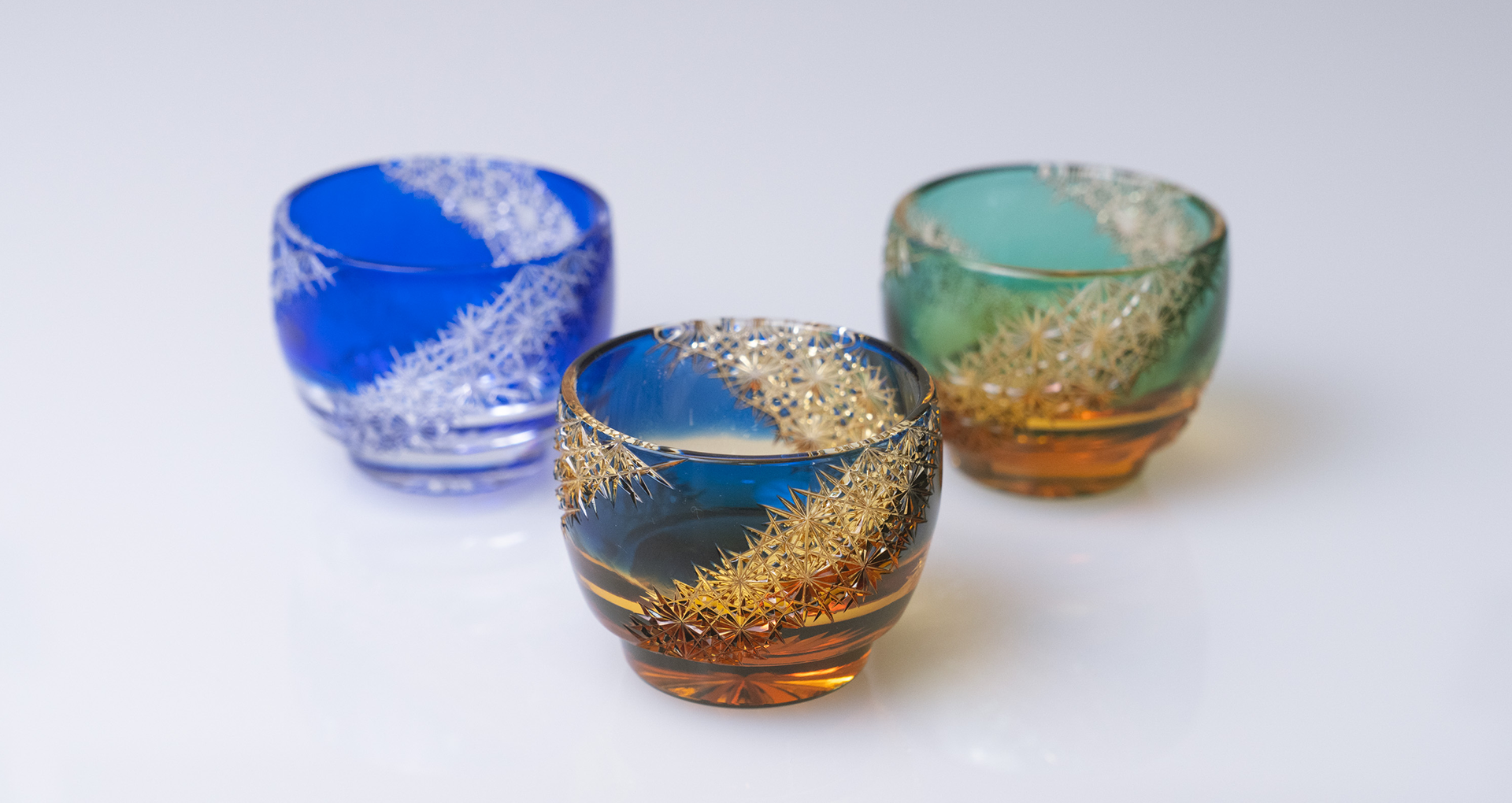 Applying to Buy TOKYO Promotion Project
to expand the business by making a corporate/e-commerce website.
 Manufacturing and sales of Edo Kiriko is the core business of Ohba Glass Processor Co., Ltd., founded in 1966. There are times Ohba Glass Processor directly sells its prized products to customers at events such as ones held at respected department stores. The company currently has three employees. The employees include President Kazutoshi Ohba, a young artisan, and a staff in charge of shipping to consigned sales destinations.
 Mr. Ohba, who usually focuses on creating works of art as an Edo Kiriko artisan, created a corporate website around 2016. "A corporate website is like a business card in our time. I believed it was indispensable to have one to earn the trust as a company." However, the website he created on his own was far from his ideal.
"The website I created looked cheap. It was because I was an amateur. As an artisan, I knew more than anyone about the incomparable difference between the skill of an amateur and a professional. But outsourcing it would have been costly. I didn't know the market price to begin with. I had no idea what made website development expensive or cheap. I was anxious whether I should invest money for the websites."
 He applied to the Buy TOKYO Promotion Project to solve this problem. The company started to receive support through the project in August 2019.

The expert advisor who gave advice about details including how to effectively use production costs,
on top of the expense subsidies, was so encouraging.
 In addition to a corporate website, Ohba Glass Processor decided to finally launch an e-commerce website, its long-cherished desire. Mr. Ohba first decided to utilize the expense subsidy to ask a website production company to create the websites.
"There were many things I had a tough time understanding during the meetings. The process required me to do quite a lot of research so I could do something as simple as hiring them to make websites.
During this process, my advisor, who was dispatched for hands-on support, was more encouraging than even the expense subsidy itself. He gave me advice based on the perspective that was different from the production company, which was so helpful."
"He taught me many things, even about how to minimize the cost. Above anything else, his perspective considering the reality when we started using the websites was the most helpful. There was a time during the production when I realized we had to change. It was when he told me that we would have a hard time using the websites if we didn't change the design. Websites are only useful if they can be used. Creating impressive websites after investing a lot of money would have been a wasted effort if we couldn't utilize it. That would have happened without our advisor."
 The Buy TOKYO Promotion Project gave more than simply the relationship with the production company and the advisor.
"Photographs are crucial when conveying the beauty of Edo Kiriko. Although I had attended several photography classes a long time ago, I can't shoot like a professional photographer. The production company introduced me to an outstanding photographer. The quality of the photos was beyond what I had imagined. This was also a precious encounter I had through the project."

The entire country of Japan is your trade area when you're online.
The E-commerce website became our emotional support amidst the decreasing sales caused by COVID-19.
 The corporate and e-commerce website was done in March 2020. It was just after COVID-19 began to spread.
"Sales dramatically dropped triggered by COVID-19. We were all anxious about the future. But sales on the e-commerce website were good. Of course, even if the sales were good, it wasn't enough to cover all the company's profit losses. Even so, the fact that we could pioneer a whole new world really encouraged us."
 Mr. Ohba shared that Ohba Glass Processor has discovered the strength of online sales.
"We used to travel to attend sales events at department stores in different cities. In contrast, the entire country of Japan is always the trade area for the e-commerce website. This is an astonishing reality. In recent years, the high-end tableware section of department stores has been shrinking. Many people may want our products but are unable to buy them. But the e-commerce website allows you to approach these people. Even a first-time customer purchased the most expensive product available on the e-commerce website that was 100,000 yen."

Doubling sales through hiring an online advertising and SEO measures consultant.
Aspiring for further growth by opening a branch on a mall-type e-commerce website.
 As of October 2021, the second term of the Buy TOKYO Promotion Project, Ohba Glass Processors, is continuing to ask the support from advisors. Mr. Ohba is receiving support from an online consultant this term for SEO measures and online advertising operations.
"We started online advertising in August 2020. The e-commerce website sales rose 1.5 times about half a year later. It has been growing steadily since then. We didn't know when to release online advertising and how cost-effective it was when we were on our own. We're now amazed at how effective it can be when hiring a professional."
 In March 2021, they opened a store on BASE, a mall-type e-commerce website, after doing well on their corporate e-commerce website.
"People who already know they want to buy Edo Kiriko visit our website. People who have a vague idea, looking for gifts or interesting products visit the mall-type website. We decided to sell our Edo Kiriko on both kinds of websites so more people could appreciate our work."
 When we asked Mr. Ohba at the end of our interview about the vision for the company, he shared that he also wants to use the corporate and e-commerce website to showcase new works and works done by young artisans. The dream that was born through the new websites goes beyond the growth of Ohba Glass Processor.
"There will be more people who will aspire to become Edo Kiriko artisans if we have more fans of this art. The aging of the artisans is a serious concern in our industry now. I want to expand the opportunities where young people can see and experience the beauties and appeals of Edo Kiriko through our websites."