Greenery, Inc.
Representative Director Ms. Rie Okitsu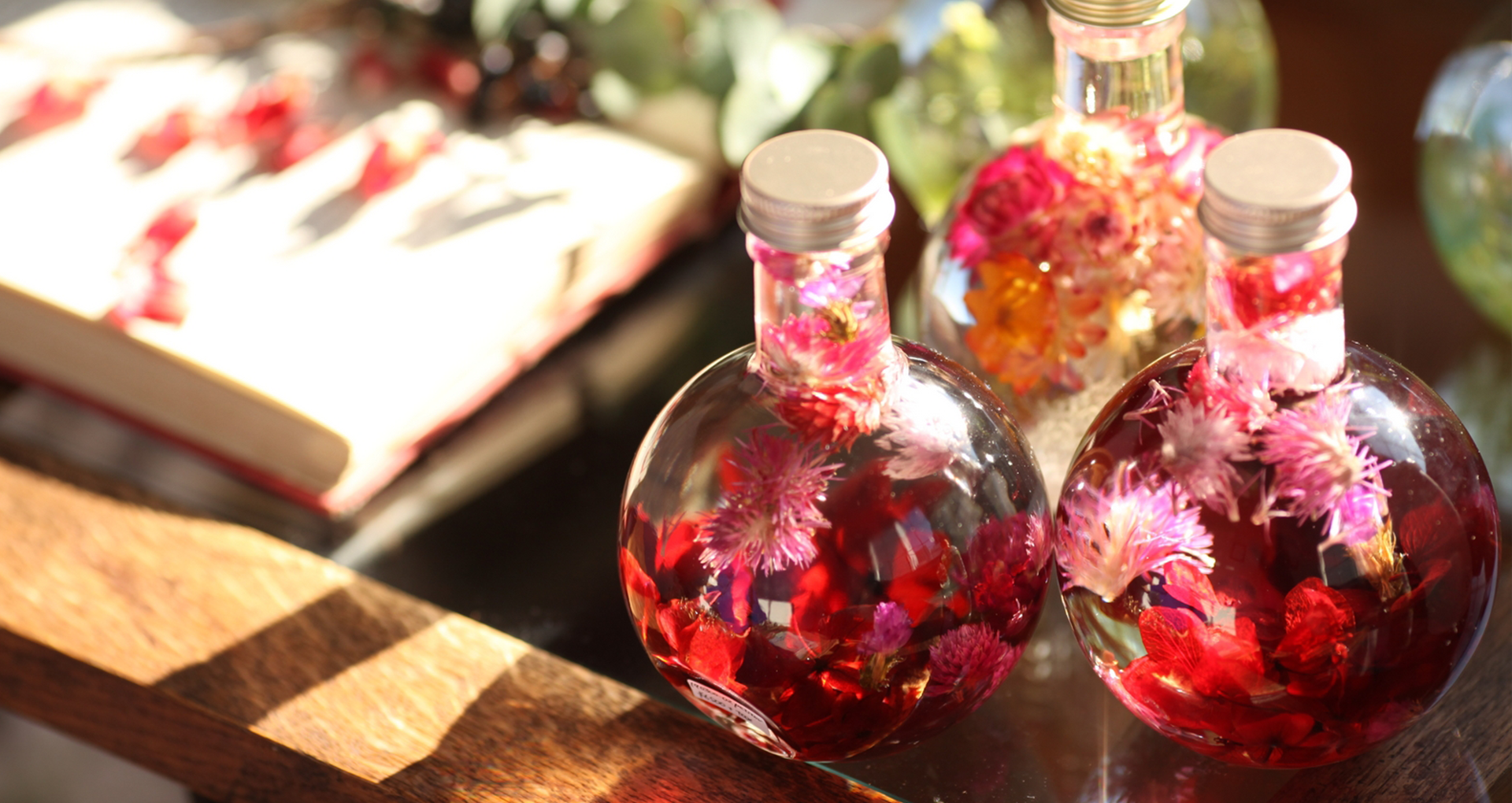 Welcoming the 3rd year since establishing a company after jumping into the business world from medical science.
Clarified vision by applying for Buy Tokyo Promotion Project
 "FLOWERiUM®," created by Ms. Rie Okitsu, is a flower art that preserves real flowers underwater for a long period. Online sales launched in 2015 when Ms. Okitsu was working as a researcher at Keio University Hospital.
"Since I was a child, I had felt the power of healing flowers have, from the flowers decorated in my family's hospital room. The FLOWERiUM® was born from my desire to bring it to many people."
At first, it was decorated at the hospital rooms at the university hospital. Eventually, more people started telling her, "I also want it." This is how online sales began.
 It soon began to be sold at stores, including department stores. Ms. Okitsu says that she had been managing the business through trial and error in the unfamiliar business world. It was during that time that a designer she happened to meet told her about Buy Tokyo Promotion Project.
"It was the first time I came up with a business plan when I applied in 2019. It was a highly educational experience even if I had not been selected."

Asking for branding and PR for hands-on support.
Expanded web-related items for expenditure subsidies. The branding evolved in the past year!
 The supporting period of the Buy TOKYO Promotion Project is two years. My goal during the first year was to implement things I had postponed due to financial problems, lack of human resources, and lack of information.
"I was taught about 'What is branding?' by my advisor during the hands-on support. I had to revisit what I wanted to do.
 They could implement many things, including renewing the EC website and website, photo shooting the products and brand image, creating a catalog, and PR work. For the website, they asked an external company to do the work, using the expenditure subsidies. Having an expert analyzing the data led to changing how to make suggestions to their clients.
"For example, we also approach stores, such as high-end stationery stores with many male customers, based on the data that there are many men who purchase it as a gift."
 Although Ms. Okitsu shyly says that "I'm not good at public speaking," during the interview, she has also started to put her effort into PR work.
"Through the PR support, I was introduced to a PR / public information advisor. I organized my profile and the characteristics of the brand after asking what kind of materials were needed. I brought those materials to approach the media with my advisor.
After the interviews have been realized through websites, she now strongly feels that "The desires embedded in the products can be directly conveyed" by her talking about it herself.
Being a "Tokyo product" became a strong support to earn trust
 The fact that the product was a "Tokyo product" also contributed to improving the brand's value.
"The fact that we were selected for the Buy TOKYO Promotion Project is a strong support for a new company like us. We could earn the trust of not only domestic clients, but also clients overseas."
 The characteristic of FLOWERiUM® is the fact that you can enjoy both the freshness as though it is alive and the expression of the plants that only can be seen in liquid over a long period, even after purchasing it. Different processing, depending on the type of flower and color, is necessary to realize this. Technology developed after trial and error is used, utilizing Ms. Okitsu's scientific knowledge.
"To be honest, there are times I became depressed since we released FLOWERiUM®, as more and more products came out that simply imitated the appearance when you buy our products. But now, I have colleagues at my company who will work hard with me and people who trust me. I feel reassured. "
The overseas expansion was too difficult just on their own in terms of knowledge and cost.
They plan to focus our activities in the second year
 Greenery, Inc. is about to now enter their second year since being selected for the Buy TOKYO Promotion Project. They plan to advance expanding the business overseas from now on.
"I have been steadily preparing for it since the first year, receiving all kinds of advice from my adviser. I asked my adviser, who has the experience of being stationed in France, about the local lifestyle. I asked my adviser to list the potential clients. The other day, I traveled at my own expense and observed all of the potential clients on the list."
There was also a gallery that deals with Made in Japan products. The gallery has decided to start selling FLOWERiUM®.
"It is quite challenging to export FLOWERiUM® that uses plants, liquid, and breakable materials. It takes courage, as it is costly. But we could start taking action to realize it by receiving support in various ways through the Buy TOKYO Promotion Project."