Tokyo Washi Co., Ltd.
Representative Director Ms. Kaho Shinoda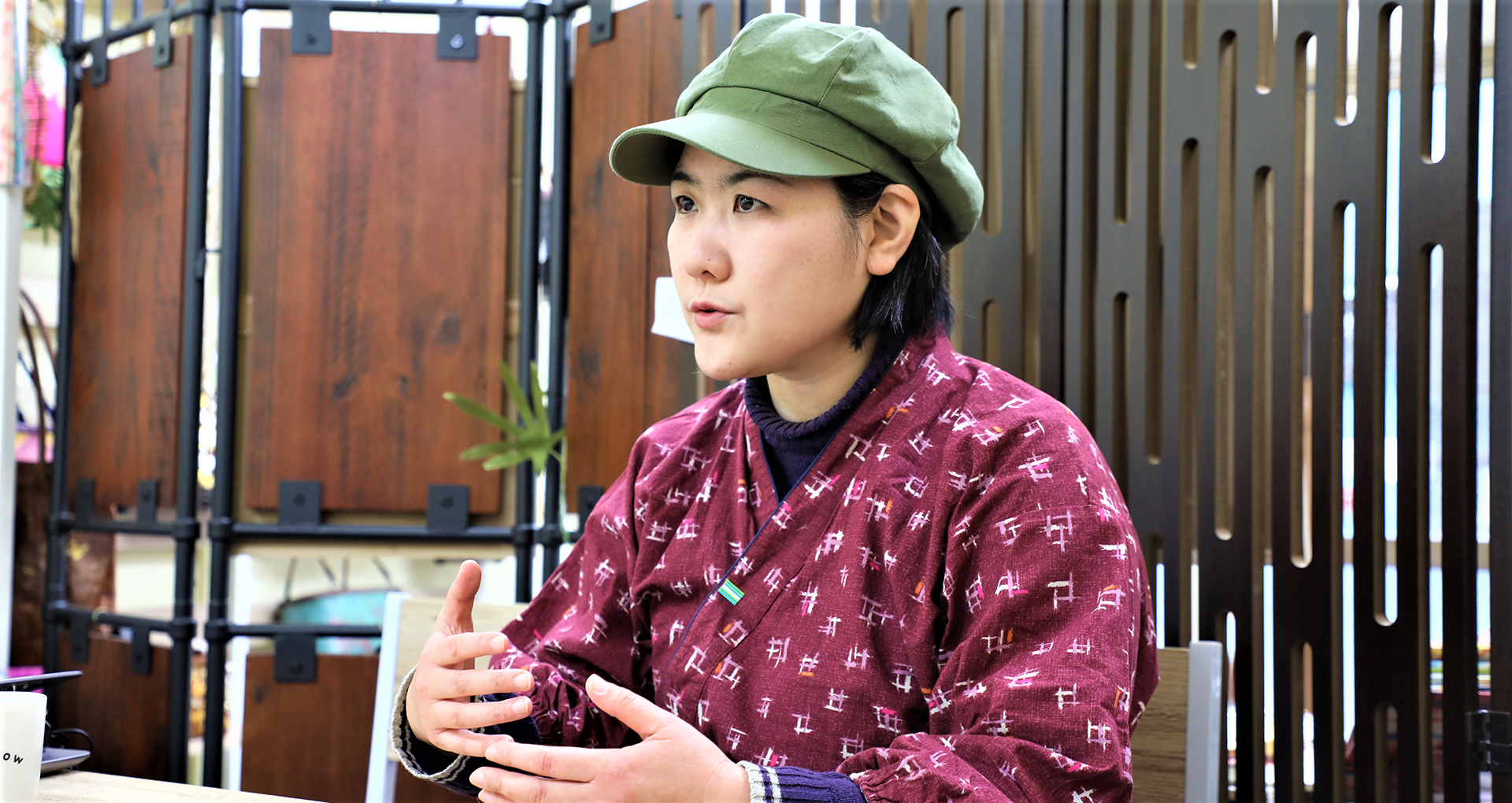 Receiving Buy TOKYO Promotion support with the second application.
Led to "Heisei ASAKUSA Washi Bag" officially launching
 Ms. Kaho Shinoda had been producing and selling products using traditional Japanese paper, washi. She received several inquiries around 2016 that asked, "There is a lot of washi made in Japan. How about washi made in Tokyo?" This led to creating Tokyo Washi.
Ms. Shinoda started working on it immediately. Within 2016, she launched a general incorporated association, a predecessor of Tokyo Washi Co., Ltd.
"I actually had applied for the Buy TOKYO Promotion Project in 2017. Although we were not selected, a businesses I knew that was selected in the past suggested, "Why not trying to clearly stating what you want to do in your business?" It became an opportunity to receive advice. "
 In 2018, she applied again for the Buy TOKYO Promotion Project with the "Heisei ASAKUSA Washi Bag" made mainly of raw materials in Tokyo.
"Fortune slips that have been used from Asakusa Shrine are used to create new washi. 'Heisei ASAKUSA Washi Bag' is a bag made from the recycled washi. 'Asakusa Paper,' recycled paper, was once a major industry in Tokyo. I revived this tradition, which had already disappeared, from scratch and made it into an original bag by adding new essences."
 When "Heisei ASAKUSA Washi Bag" was selected, she changed the general incorporated association into a corporation to put her entire effort into it. She started visiting exhibitions in different countries around the world.

Visiting cities in five countries in two years. Launching consignment sales in Paris
 In the last two years, Ms. Shinoda has traveled to London in England, Paris in France, Bangkok in Thailand, Abu Dhabi in Arabia, and Frankfurt in Germany. She utilized the expenditure subsidies from the Buy TOKYO Promotion Project for the exhibit fees and travel expenses. During the hands-on support, she often received information from her advisor.
"As part of the Ministry of Economy, Trade and Industry's efforts, we have a "Heisei ASAKUSA Washi Bag" placed in a showroom in Paris. The period is a year until March, 2020. I could know about the showroom from my advisor."
 Immediately after this interview, there will be an exhibition in Frankfurt in Germany.
"Although the other four cities were BtoC exhibitions, Germany is the first BtoB exhibition. There were many documents I had to create for the first time, such as order sheets. I completed it by revising it many times."
For the past two years, Ms. Shinoda has been accumulating her experience, trying out many things for the first time. She has expanded sales channels overseas and places for opportunities by making effort, researching, and acting, utilizing the hands-on support at times.

The desire to convey the history and manufacturing method of washi.
The desire became true through holding a workshop overseas!
 Other than exhibiting products at exhibitions overseas, Tokyo Washi has also held workshops and demonstrations. This is what Ms. Shinoda had been wanting to do.
"There are other stores that just sell washi. We wanted to be the first overseas workshop. It feels great that we could realize our desire.
 "Customers overseas have a higher interest in ecologically-friendly and natural products." Ms. Shinoda shared that in a handmade washi workshop, the fact that washi uses a plant called kozo as the main ingredient and that Asakusa paper is a recycled paper with a long history caught the people's attention.
"The workshop in Paris was so successful that there were more applications than the recruitment number to the point there were observers. 'Can plant fiber alone make paper that is this strong? Amazing!' I received many comments like this."
Researching the responses and trends of various countries across the world was the success from the past two years
 Although Ms. Shinoda had always wanted to expand the brand overseas from the time Tokyo Washi launched, there were many things she learned for the first time after visiting various countries.
"People overseas do not like bags without zippers or buttons on the opening. There is a risk of theft if you can take out the things easily."
She also realized that even in the same country or region, there are differences in fashion preferences and cultures depending on the city.
"Even in the Arab world, people dress very differently in Dubai and Abu Dhabi. People in Abu Dhabi are more religious than Dubai, and many women wear black Abaya, a folk costume. For Abu Dhabi women, black bags were a hot selling item because it pairs great with Abaya."
 Personally experiencing this became an invaluable experience that led to the future.
"By being selected for the Buy TOKYO Promotion Project, I could see the real reactions of countries that have potential markets. I can now predict what kind of design will be welcomed in certain countries. I believe this was the greatest success from the past two years."