Divka Co., Ltd.
Representative Director Mr. Takayuki Tanaka / Executive Director Mr. Shiko Matsumoto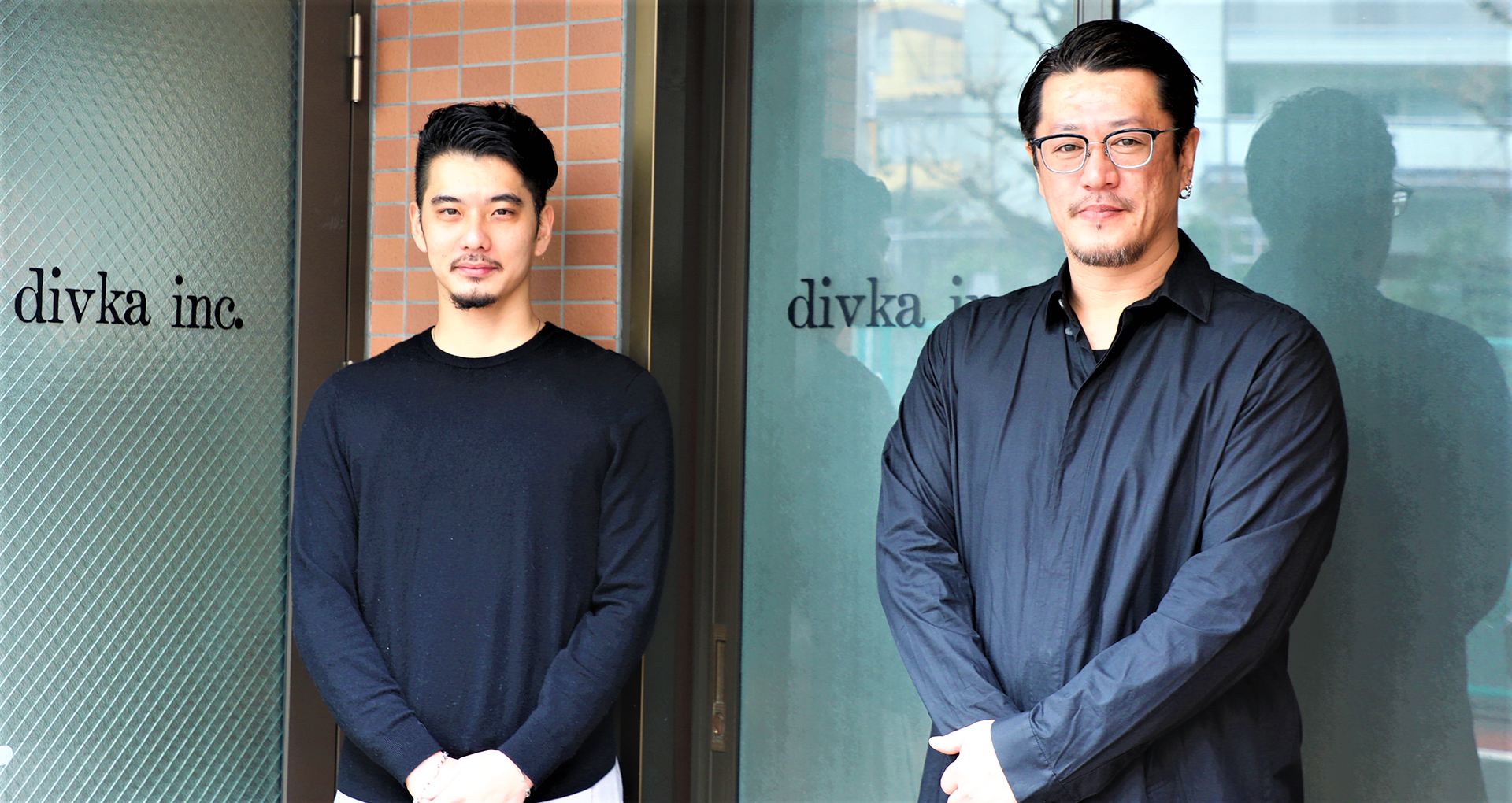 It is difficult to achieve results in a single exhibition overseas.
I felt the possibility of the Buy TOKYO Promotion Project because of the "two year support"
 "divka" is a fashion brand launched in 2011 with Mr. Takayuki Tanaka as the designer and Mr. Shiko Matsumoto as the modelist. The brand soon released a collection to the world in the following year, 2012. When asked about the reason the brand expanded overseas right after it launched, Mr. Tanaka shared that "There are not a lot of stores in Japan that sell mode clothes like divka. I felt the potential of the market overseas."
Mr. Tanaka's insight proved to be true. In 2012, divka was selected as a finalist in an international competition. It soon started to exhibit in exhibitions in Paris and Shanghai.
 As the brand received rave reviews in Japan and overseas, Mr. Tanaka began to have the goal to "expand to the US."
"An American buyer I met in Paris told me that in the US, there are cities in each State, and high-end stores in each city. This means that it can be a big market for us. I felt that the next goal should be exhibiting in an exhibition in New York.  This was when someone told them about the Buy TOKYO Promotion Project. The fact that the support period was two years was the deciding factor for me to apply.
Although there are two exhibitions in New York, it is difficult to achieve results in the first exhibition. Even if the first one is successful, many buyers will purchase your product after observing the second and third exhibitions and deeply understanding the brand. This is why I felt that being able to receive continuous support for two years was perfect for us.

Advancing to New York and creating a look book...Many Visions were realized through the expenditure subsidies
 divka utilized the Buy TOKYO Promotion Project through the collaboration line with Mr. Takashi Ogura, a traditional artisan of Tokyo Hand Drawn Yuzen. It was clothing made using fabric with Hand Drawn Yuzen printings. Once divka was selected for the support, Mr. Tanaka and Matsumoto utilized the expenditure subsidies. Mr. Tanaka went to an exhibition in New York, bringing divka × Takashi Ogura's work.
"Once I went to New York, I found that our brand had matched their needs beyond my imagination. I already could find 10 new clients in the first exhibition and 20 new clients in the second exhibition."
 divka also has utilized the expenditure subsidies for various other purposes.
"I decided to use the subsidies for various ways since we did not need a large sum of money for something like opening a store. I honestly thought, 'I did not know we could do so many different things!'
For example, the expenditure subsidies were a significant support when creating a lookbook (catalog).
"Creating a lookbook is quite costly, as it includes paying for a photographer, model, hair and makeup artist, and a photo shooting studio. Even though it is costly, I still wanted to create a lookbook, as fashion comes alive when a person wears it."
Instagram on the website.
Asking for web marketing advice during hands-on support.
 When expanding to New York, Mr. Tanaka had an exhibition he wanted to exhibit based on his own knowledge and experience. However, he did not have any specialized knowledge about web marketing that was not his specialty. He decided to mainly receive advice on this area during the hands-on support.
"The hands-on support started when we had just finished changing the brand's website. I wanted to know how to get to the top in Google search. My adviser, who was a web marketing expert, instructed me in a way that was easy for me to understand.
 Other than the website, he also asked for advice about how to utilize Instagram.
"Instagram is now an essential social media in the fashion industry. In fact, the announcement that has been made in divka's Instagram has been effective when holding events.
Mr. Tanaka shared that posting an add on Instagram, verifying the results after the post, and thinking about how to improve it was "New to me because it was a method only professionals would use."
"By meeting an adviser once a month, I could learn many things about web marketing techniques we had not done before when we were on our own."
The greatest success was pioneering the huge US market!
 According to Mr. Tanaka, "The fashion industry in Japan is currently struggling." The huge US market divka encountered through the Buy TOKYO Promotion Project has become a beacon of hope.
"I will not be exaggerating to say that the exhibition in New York is the only exhibition we have hope. However, I do not know how long this market will last. I want to continue to keep expanding to places that present opportunities. I want to compete around the world. ''