Kataoka Byobu Store Co., Ltd.
Representative Director Mr. Kyoichi Kataoka (left) Managing Director Mr. Takato Kataoka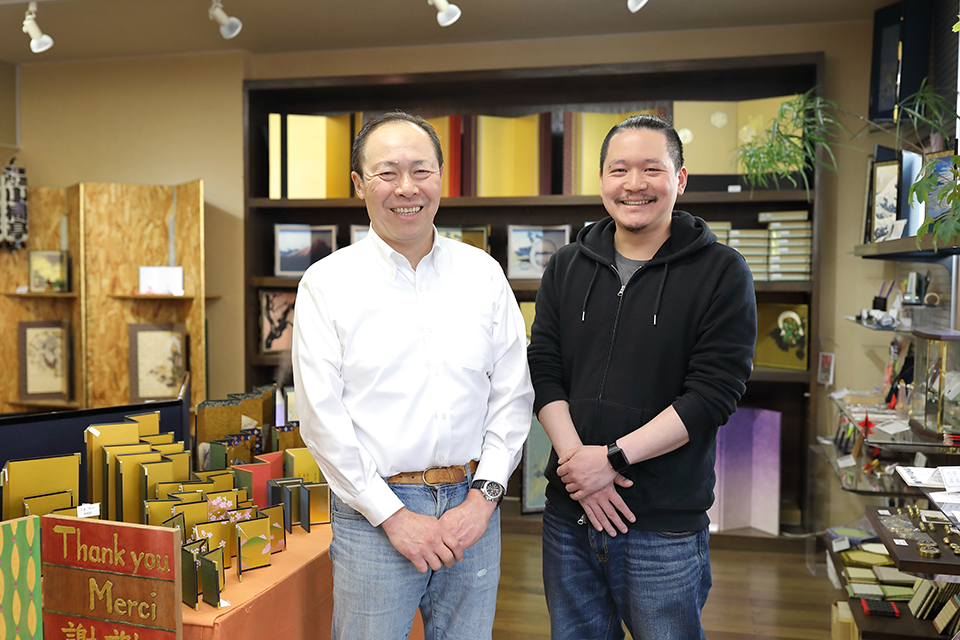 We want to help more people know the intriguing attractions of Japanese byobu using "HOKUSAI BYOBU" as an entry point.
Kataoka Byobu inherits traditional byobu making that has developed in its own unique way in Japan over three generations in Sumida, Tokyo.
The traditional Japanese indoor decoration has sustained the lives of people as a wind shield and a partition since ancient times. It is now regaining a new kind of attention. It has been nurtured by unique Japanese aesthetics and can be a piece of furniture that presents various atmospheres not limited to Japanese style rooms. It can also be a canvas bringing out the beauty of artistic works.
We inherit byobu making techniques that has evolved in its own unique way in Japan
"Although byobu was brought to Japan from China, it has evolved in its own unique way since about 1300 years ago utilizing the characteristics of Japanese paper." Mr. Takato Kataoka, the young 3rd generation master began to explain to us passionately.
"For example, a technique that sturdily connects wooden frames with a paper hinge is only found in Japan. When pasting paintings, it is finished into a beautifully stretched state. It is done by adjusting the amount of water applied after determining the characteristics of each pice of paper." These techniques make Japanese byobu light and gives it a unique shape that stands by bellow folding. On top of that, the joints are almost not visible, giving it a seamless impression. As it was used as a wind shield or a partition, it evolved into a decoration with paintings or calligraphy on it.
He explained to us with even more passion. "The artisans who inherited and developed the traditional technique of byobu making are the ones who supported this unique evolution."
However, lifestyle changes have decreased the demand for byobu. This is evident from that fact that Kataoka Byobu Store is the only Byobu specialty store in Tokyo.
"I was thinking how we could appeal the excellent traditional techniques of Japanese byobu making to a wide audience. That is when I came to know about Buy TOKYO Promotion Project."
We received the support from Buy TOKYO
to appeal "HOKUSAI BYOBU" to people
"I first decided to focus on Katsushika Hokusai to appeal to people who were not familiar with byobu. I decided to use his famous "36 Views of Mt. Fuji" to paste it on byobu. I wanted more people to rediscover the attractions of Japanese byobu by having more people to see "HOKUSAI BYOBU."
However, the cost for creating tools to appeal the byobu was costly, especially if we were going to create a high quality promotional tool that would gain attention.
"I came to know about Buy TOKYO Promotion Project when I was distressed about how to raise the money and what promotional method to use. I wrote everything I had thought about the concept of "spreading HOKUSAI BYOBU that contains the techniques of Edo" in an application form. Fortunately, Tokyo recognized it, which may be because they could see my passion."
 In the 1st year after receiving the support of Buy TOKYO promotion project, he first worked on creating a brochure (four languages in Japanese, English, Chinese, French) of HOKUSAI BYOBU.
He especially poured his heart in creating a promotional video. "It is difficult to understand what byobu is like just by looking at pictures. It is more convincing if you look at videos which will help you understanding the appeals of byobu."
The video was comprised of two parts, a video that explained the artisanal techniques of byobu making, and another video that explained about Hokusai. It can be viewed from the specially created "HOKUSAI BYOBU" page of Kataoka Byobu Store website.
"I could received a lot of advice from the consultant and also receive subsidies (through the support of Buy TOKYO). It was really helpful."
Buyers from overseas also showed interest in HOKUSAI BYOBU at an international trade fair
In the 2nd year of receiving support, Mr. Takato Kataoka worked on exhibitions. "Although we had exhibited in exhibitions to sell byobu for festival dolls, it was the first time Kataoka Byobu Store exhibited in an exhibition that focused on promoting "HOKUSAI BYOBU." They joined an international trade fair, "IFFT/interiorlifestyle living," an exhibition in which top-class wooden furniture makers and interior makers in Japan join. He smiled and explained. "Although we exhibited using a small space, the gorgeous 'HOKUSAI BYOBU' received attention and was highly popular. Overseas buyers showed a lot of interest and there are now several business deals we are talking about." His father, the 2nd generation master Mr. Kyoichi Kataoka also shared with us something that happened about HOKUSAI BYOBU. "The 1st floor of our studio is a gallery called 'Byobu Museum.' A British lady recommended us to create this. She told us, 'It would be a waste not to exhibit these wonderful byobu.' People from overseas may be able to feel the attractions of Japanese byobu without any preconceptions." Currently Kataoka Byobu Store is actively trying creating new kinds of byobu, in addition to the traditional byobu making such as the traditional golden byobu for "celebrations" such as weddings or festivals and Japanese doll festival byobu. The new kinds of byobu include a tailor-made byobu that allows customers to bring in their kimono and obi to turn it into a byobu and artwork that creates byobu according to the requests of artists such as photographers. Mr. Takato Kataoka explained to us."'HOKUSAI BYOBU' is like a business card to us. I believe it is our mission to tell people the rich attractions of byobu using it as an entry point." He has high ambitions for the future.