atelier 8 Ltd.
Representative Director Mr. Masaaki Takahashi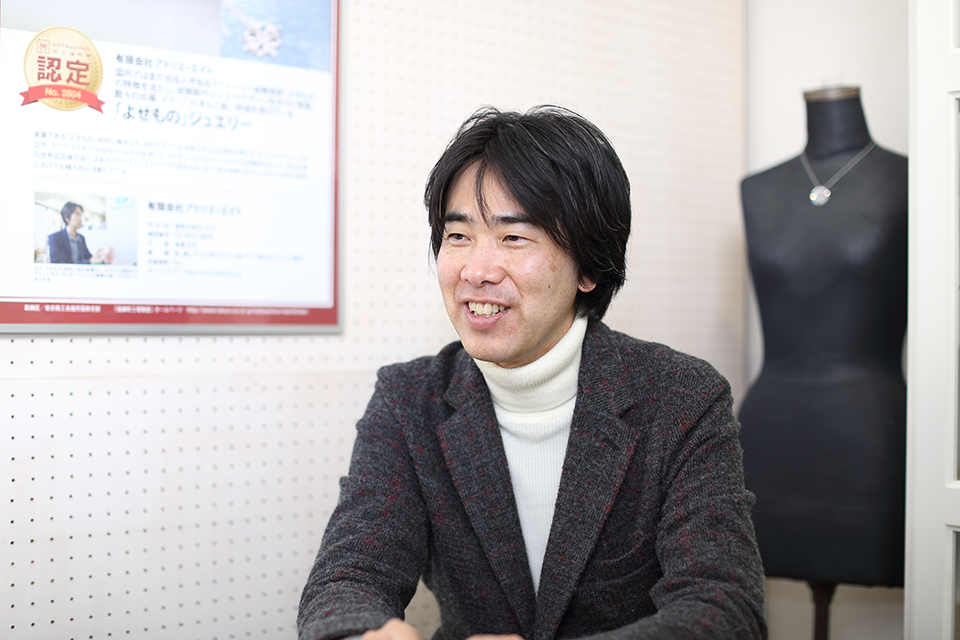 The delicate jewelry unique to Japan born from the "yosemono" technique is beginning to be recognized overseas.
atelier 8 Ltd. creates jewelry such as broaches and necklaces using crystals and artificial gems committed to using the traditional technique, "yosemono."
"Yosemono" jewelry is made by carefully brazing the setting that holds each crystal or gem. The shaping is all done by hand. It has been increasing fans as it allows you to feel the warmth of handmade crafts and is adorned with a light and delicate atmosphere.
We started our own company brand because of the Great East Japan Earthquake
"The Great East Japan Earthquake in 2011 was actually why we ended up having our own company brand and shop as you see today." Mr. Masaaki Takahashi began to share what at first seemed unrelated to atelier 8 Ltd. that opens its store in Katsushika, Tokyo.
"Our company mainly sells bridal jewelry or jewelry which people wear for special occasions like parties. However, such needs radically decreased after the earthquake and we were completely devastated."
Seeing the crisis, Mr. Takahashi joined a business exchange meeting, hoping he could "Acquire some kind of clue to find new loyal clients." He was advices to start an original brand.
"We were a so-called supporter until then, as we were an OEM. I began to think that a new development may happen by having our own company brand and directly connecting with customers, despite the risks,"
Mr. Takahashi soon launched an original brand, "MASAAKi TAKAHASi" in 2012.
"We were already confident in the quality and product value of the jewelry born by the advanced 'yosemono' technique we had inherited. The problem was how to increase the degree of its recognition, which motivated us to launch our own company brand."
Sales promotion was indispensable to try new things
After "MASAAKiTAKAHASi" was launched, things started to look better as Mr. Takahashi had hoped. It was referred by a famous select shop of Tokyo Kaikanand was introduced on TV as a down town artisanal brand. This led to the top-crystal maker, Swarovski recognize it as a partner brand. The brand started to also receive attention overseas, and things started to improve."In the 9th Tokyo Traditional Crafts Challenge Grand Prix in 2013, we passed the first round and had the chance to exhibit at Edo-Tokyo Museum." The recognition degree of the fact that "yosemono" has been passed on for over 100 years also began to improve. "In 2014, we utilized the subsidy of the Tokyo-Produced Product Sales Activity Support Project of Tokyo and could open a store in '2k540,' a commercial facility in Okachimachi, Tokyo where artists involved in craftmakinggather. So many fortunate things happened one after another and various possibilities opened up to grow the business."The "MASAAKiTAKAHASi" jewelry gradually increased its recognition in this way. New sales channels opened up, such as being asked to open a limited POP UP SHOP at department stores across Japan."However, the amount of sales was still not enough. We lacked the company system to be able to try developing sales overseas. When we were thinking how to promote sales, I came to know about the 'Buy TOKYO Promotion Activity support Project.'"
We could open up new sales channels with "hands-on" support
One of the characteristics of Buy TOKYO Promotion Activity Support Project is the "hands-on" support by a coordinator or a specialist. A consultant is dispatched depending on the business' progress, and offers specific advice and support for branding and sales promotion.
"We could do sales promotion by increasing media exposure by having specialists introduce famous stylists or having a consultant accompany us to actively promoting it to bridal stores or leading mail order companies. We could open up new sales channels with the sales promotion "hands-on" support.
We then used it to turn it into businesses opportunities. For example, we could open up a new sales channel related to gifts through a leading mail order company. Fortunately, it has helped as it is popular and a certain volume of sales is expected."
Passing on the "yosemono" technique
Besides promoting sales, Mr. Takahashi is also focusing on passing on the "yosemono" technique. He currently teaches "yosemono" technique as a part-time lecturer at a fashion vocational school. He also is actively working to spread the degree of recognition of "yosemono" by holding workshops and giving lectures.
Future challenges
Mr. Takahashi passionately shares, "I would like to continue to use the intricate 'yosemono' technique unique to Japanese and start something new in the world of jewelry with modern senses and new ideas." The challenges of atelier 8 have just begun.