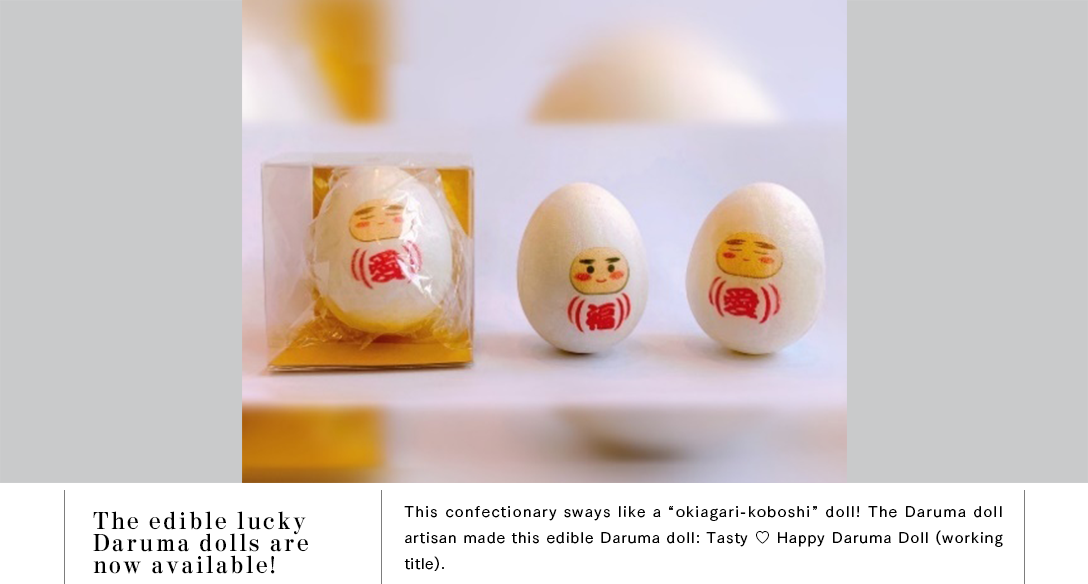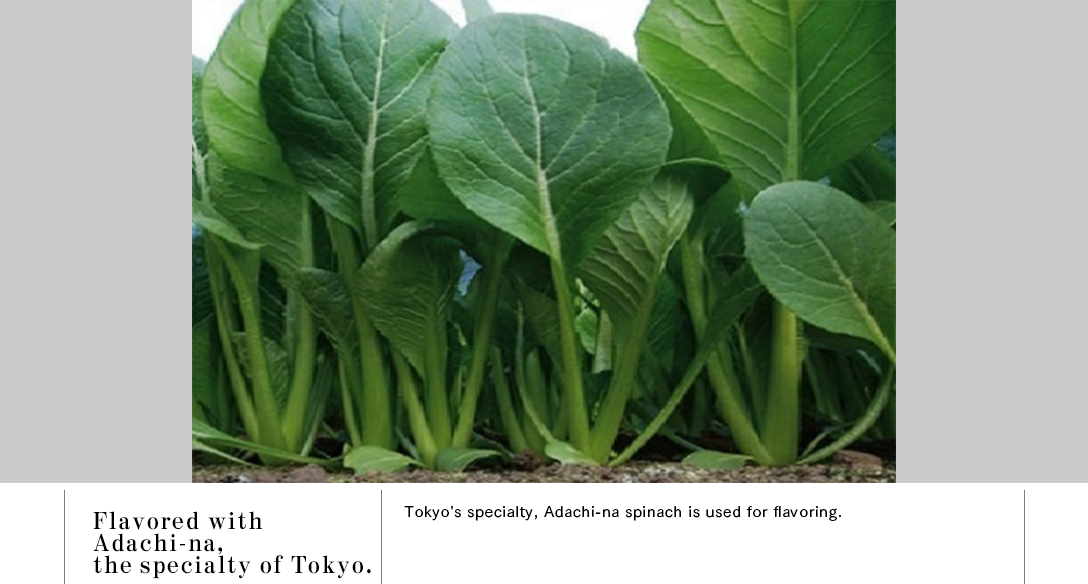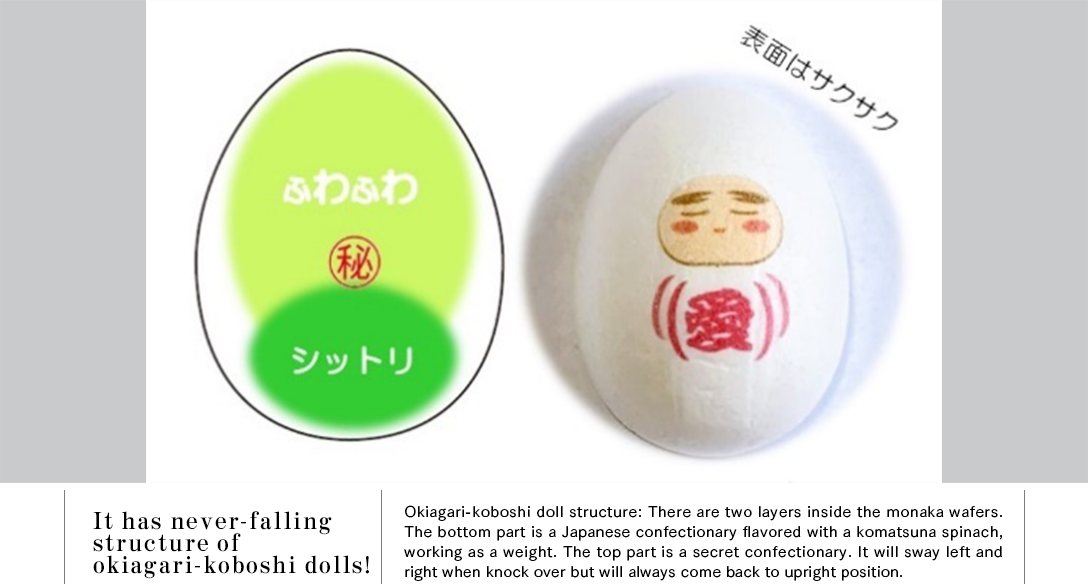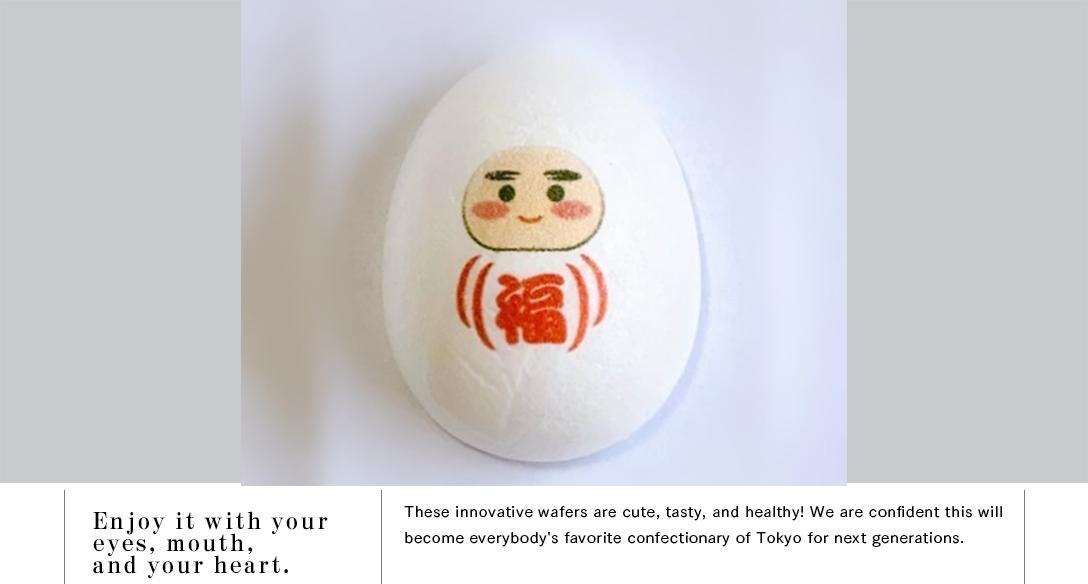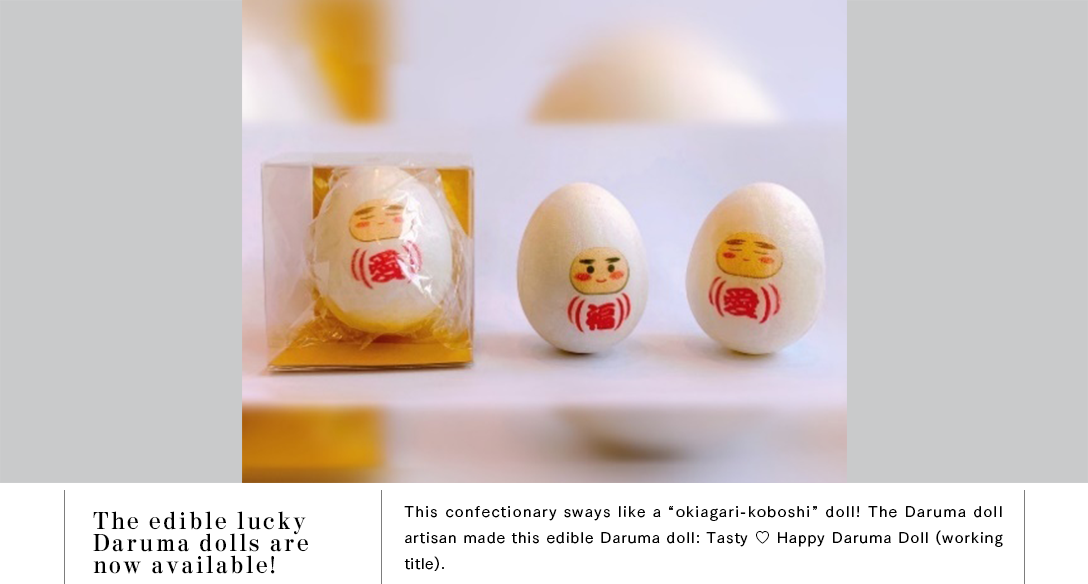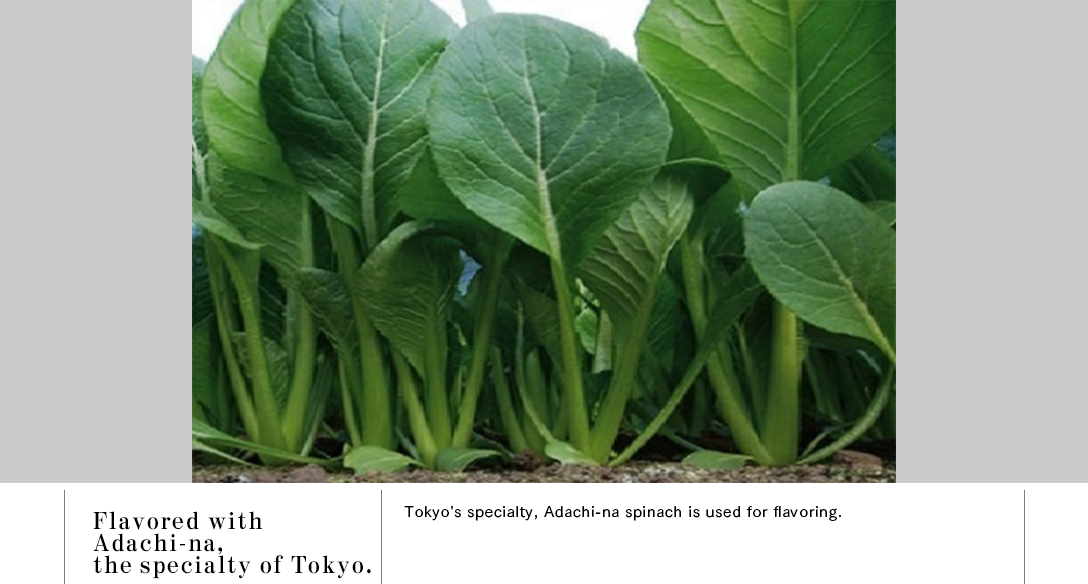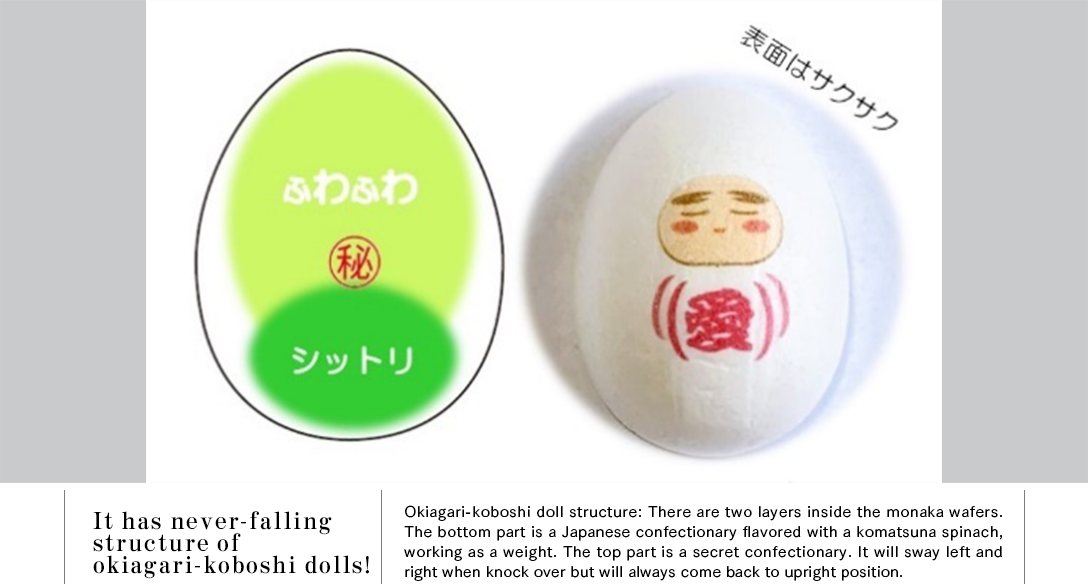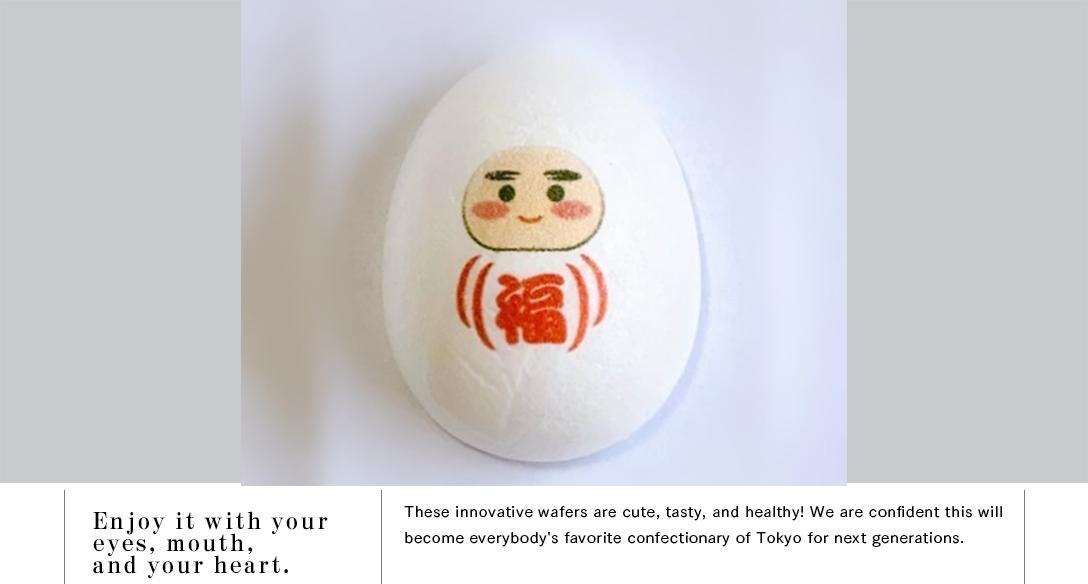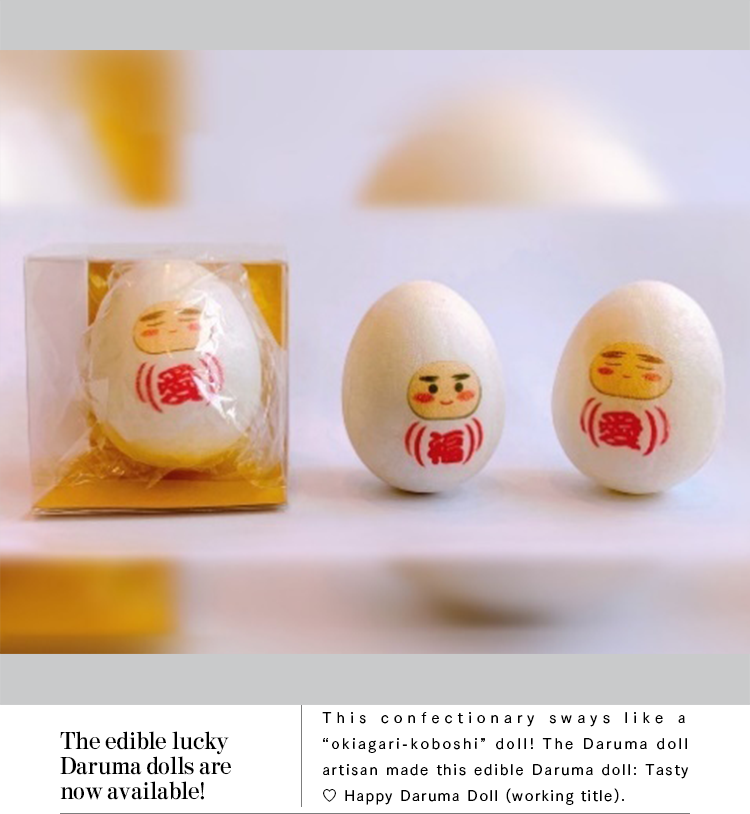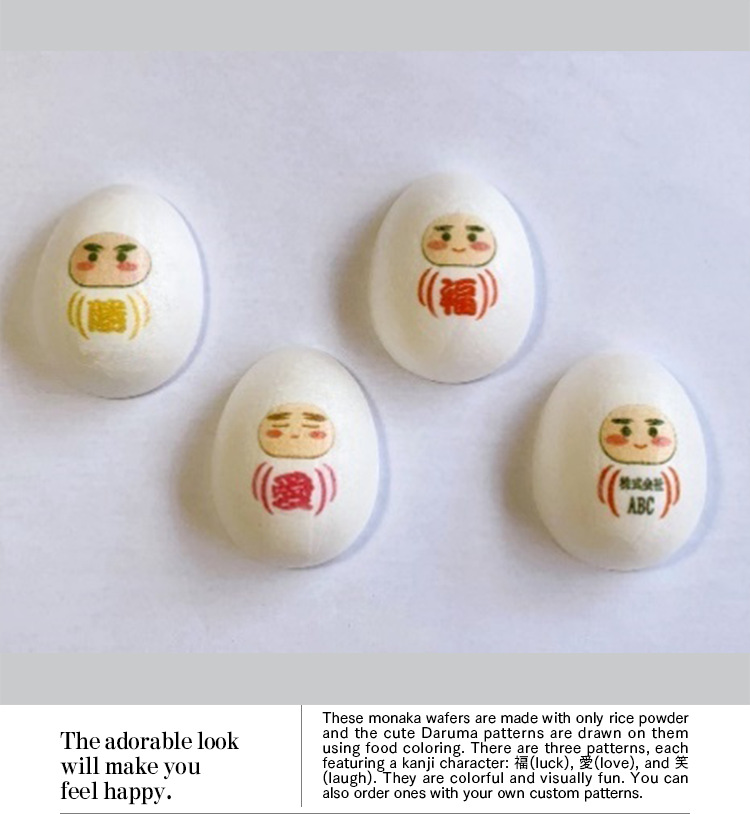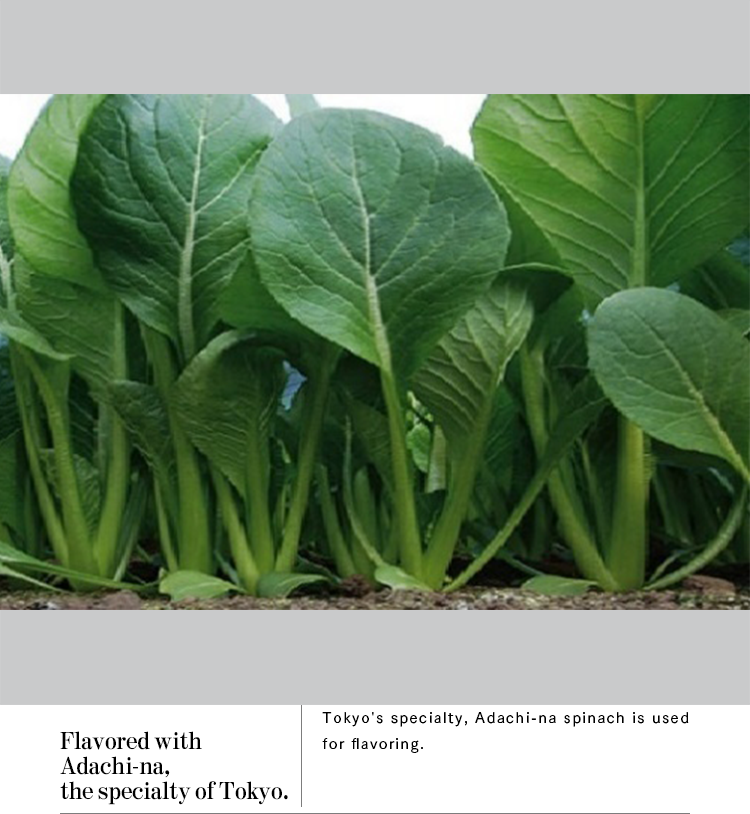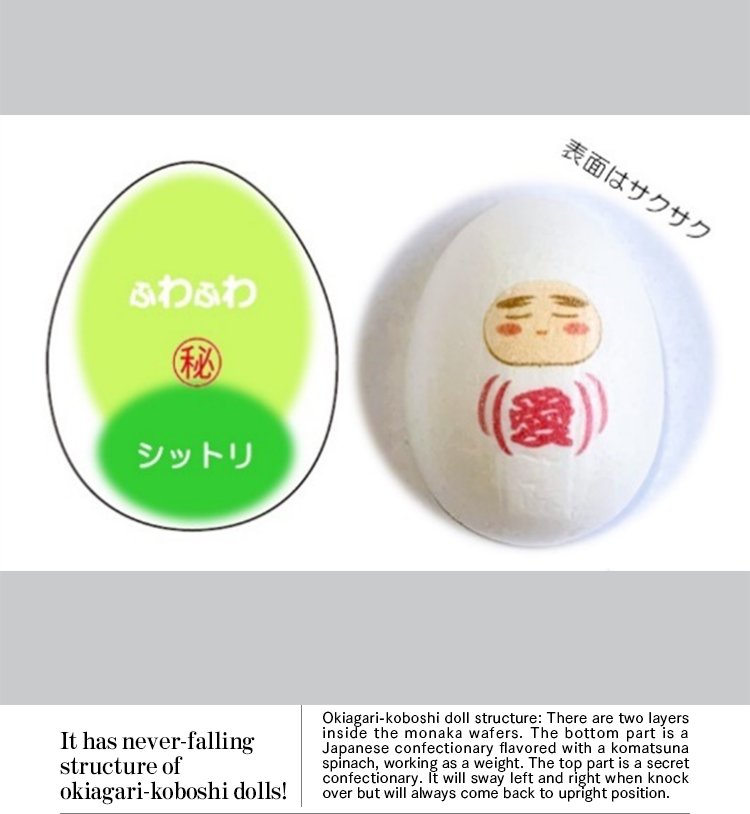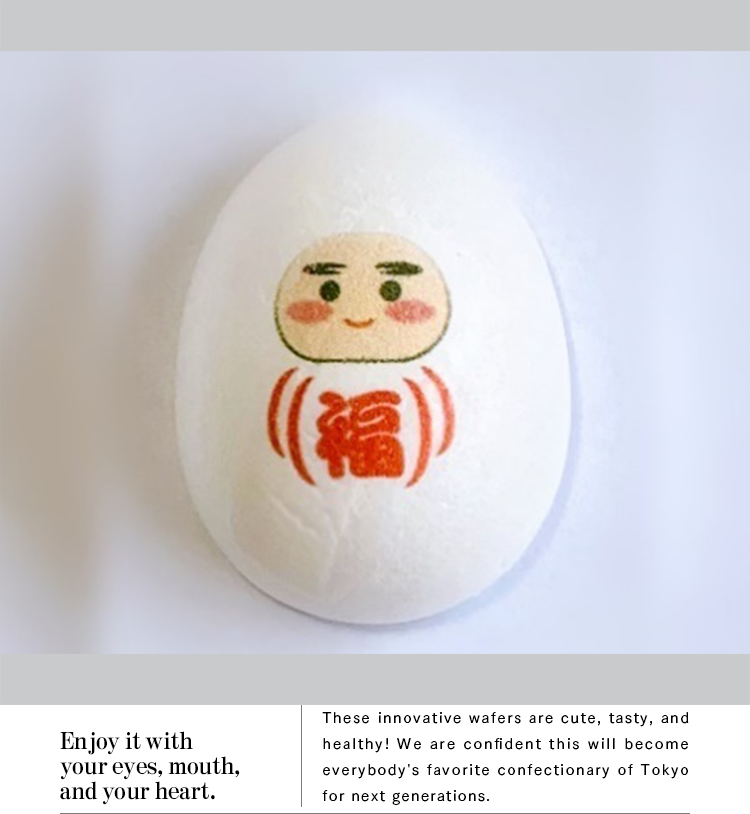 Crista Incorporated (Happy Daruma Kobo)
Miho Takahashi
Created By Happy Daruma Kobo
The lucky "never give up" Daruma dolls symbolizing the Japanese spirit are now available in a monaka wafer form! The Daruma doll manufacture in Adachi, Tokyo, Happy Daruma Kobo (Crista Incorporated) made Daruma-doll-shaped monaka wafers, which have never-falling structure like okiagari-koboshi dolls.
With the concept of "gift of happiness," Happy Daruma Kobo manufactures beautiful lucky Daruma dolls, perfect for gifting. To stimulate the economy of their hometown Nishiarai, Adachi, they invented these catchy and tasty wafers. Their primary goal was to make "a Daruma doll which makes people feel positive." The idea was elaborated into this "wafers which make people happy."

In the Gift Contest of The 3rd Kyoto International Gift Show 2022, the wafers got the fourth most votes out of one hundred and twenty-three competitors on March 9th and 10th. The wafers have an exciting potential and promotions can yield an enormous success.

The adorable wafers sway when poked by a finger. It is expected to be sold at the tourist attractions in Tokyo and for special occasions such as ceremonies. The innovative and fun wafers can be sold in many more scenes.
Not just cute. We are hoping that people will enjoy this with their eyes, mouths, and hearts.
Our goal is to stimulate the local economy by making the confectionary that not only looks cute, but also tastes good.

We have developed and commercialized many confectionaries with exciting potential for business as you can see above. Learning from those experiences, we are hoping to sell the "okiagari-koboshi" wafers featuring Adachi-na this time.

Today we are looking for companies which can manufacture and sell the wafers!
We are looking for confectionary manufactures which can manufacture and sell the wafers, with the focus on the tourist attractions around Tokyo. (We are planning to have a shop in Nishiarai Daishi area, as well.)

Let's make and sell the wafers together. We are looking forward to hearing from you.
Daruma Doll Lessons and "Let's go" Lucky Happy Tour

Daruma Doll Lesson
[Decoration Course]
- We can write a phrase or a name you like on the doll without an extra charge.
- Estimated Time: 30 - 90 min
Fee: \1,650 (w/ tax) (doll, decoration and other crafting materials included)

[Painting Course]
- Add a decoration: \550 (optional)
- Estimated Time: 60 - 120 min
Fee: (w/ tax, doll and other costs included)
\2,200(9cm), \3,300(12cm), \4,400(16cm) *The price will change depending on the size of the Daruma
We are also offering "Happy Tour" in which we will guide you around the spiritual places! Please refer to our website for the detail.

Contact
Founded

2014

Capital

One million Yen

Company Info

Manufacturing and retail of Daruma dolls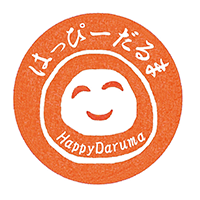 Crista Incorporated (Happy Daruma Kobo) / Miho Takahashi
Nakata Building 204 1-5-1 Nishiarai, Adachi, Tokyo 123-0841
Phone : 03-6806-3720 FAX : 03-4333-0485  Mail : shop@crista.jp