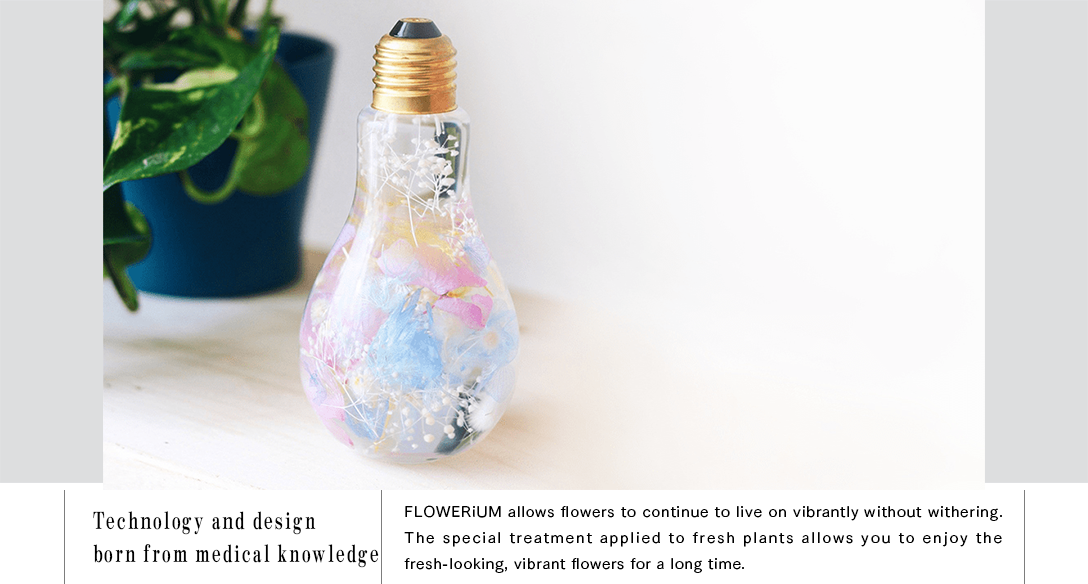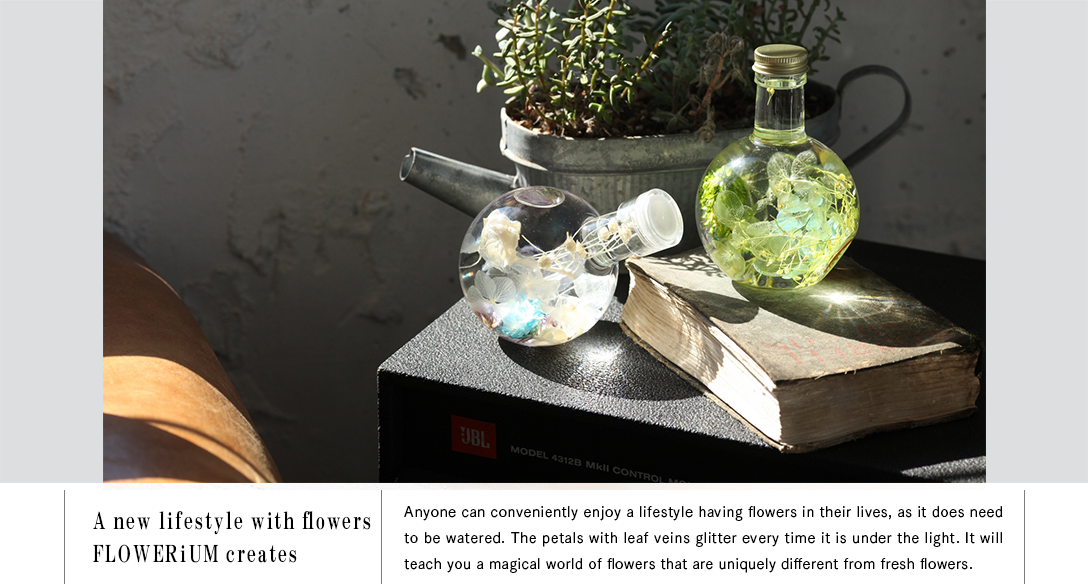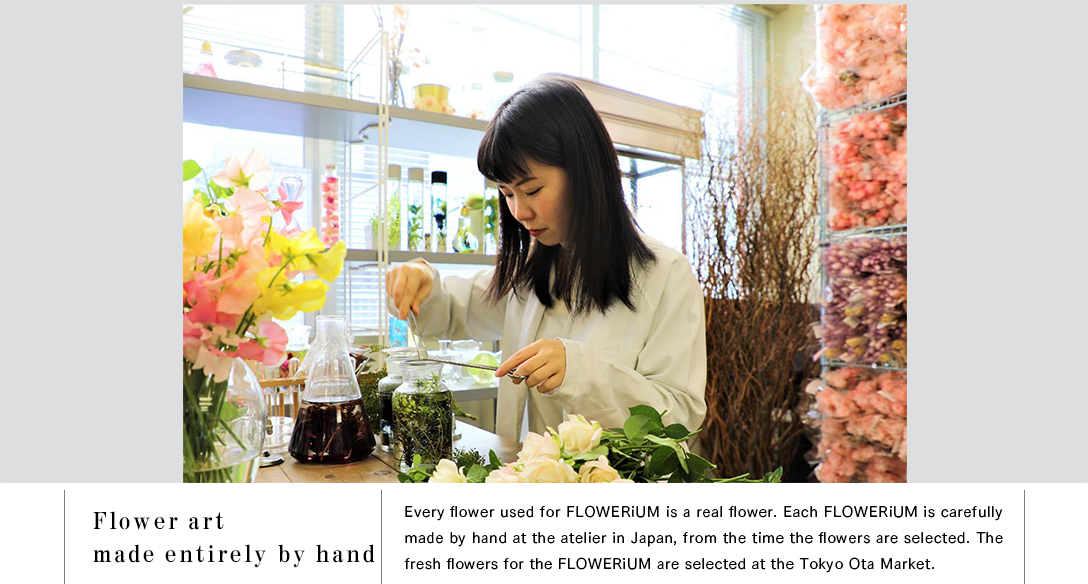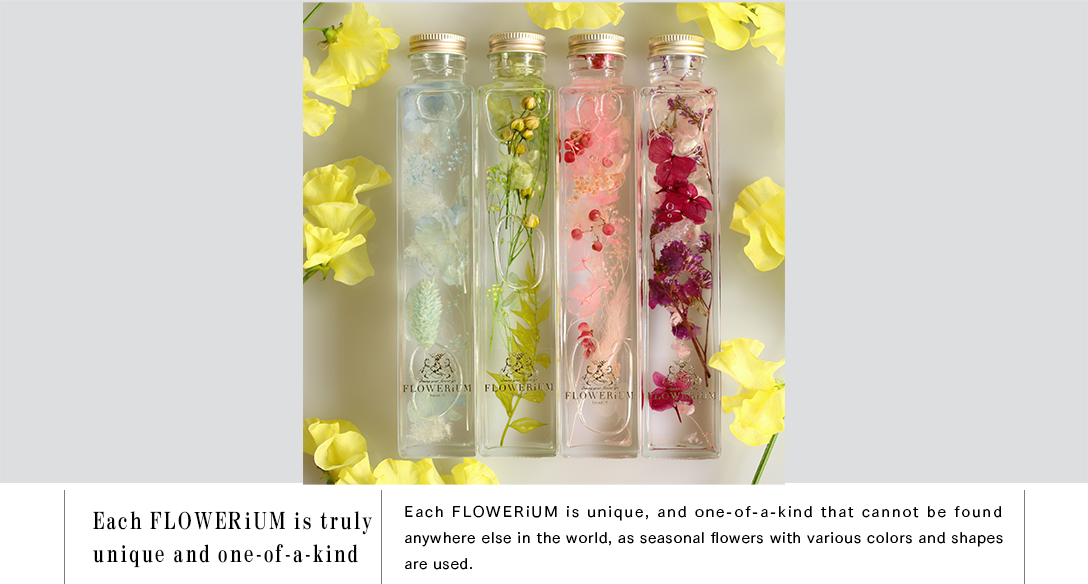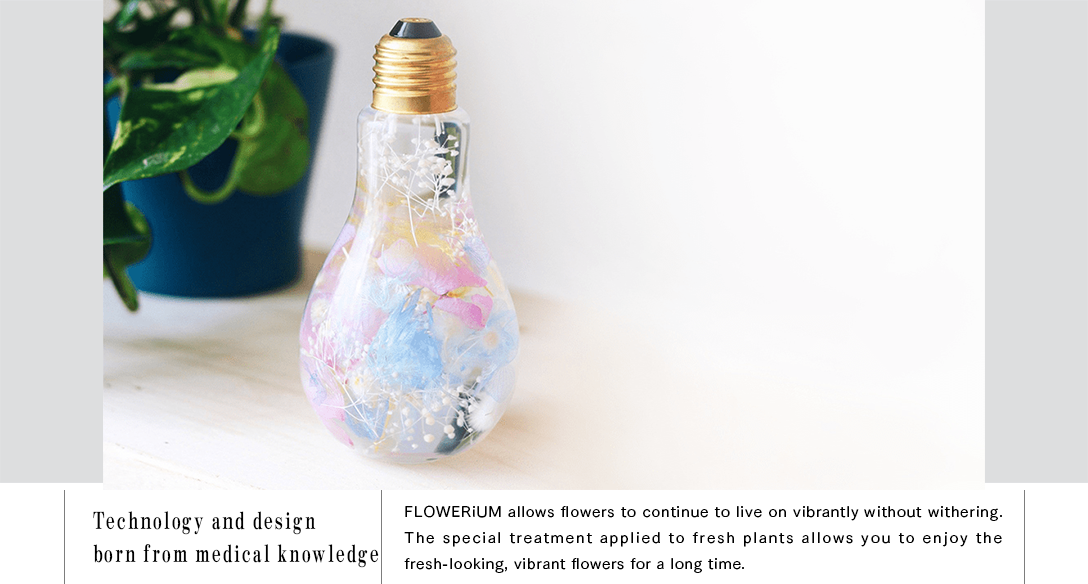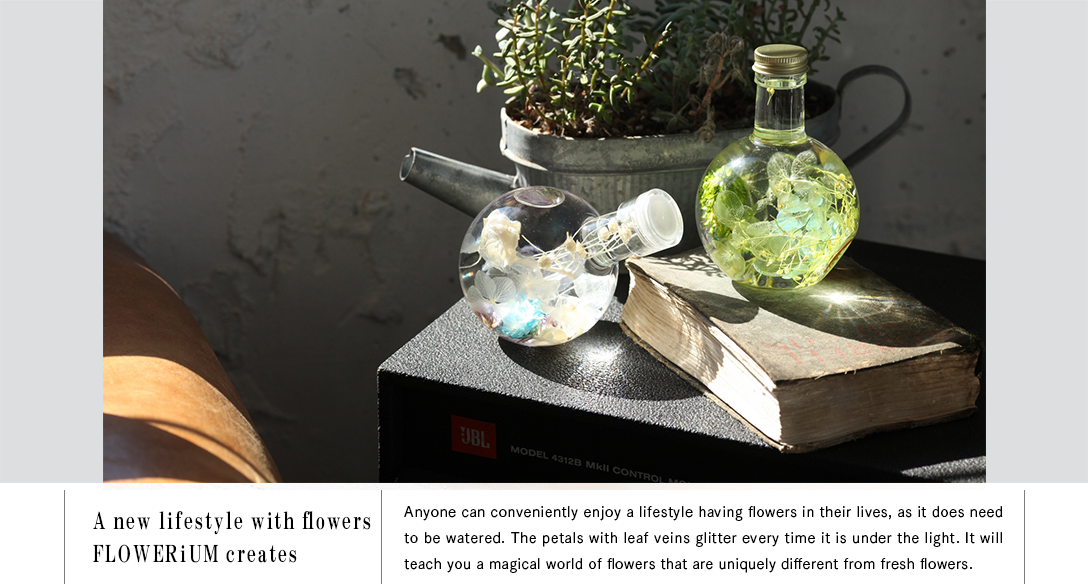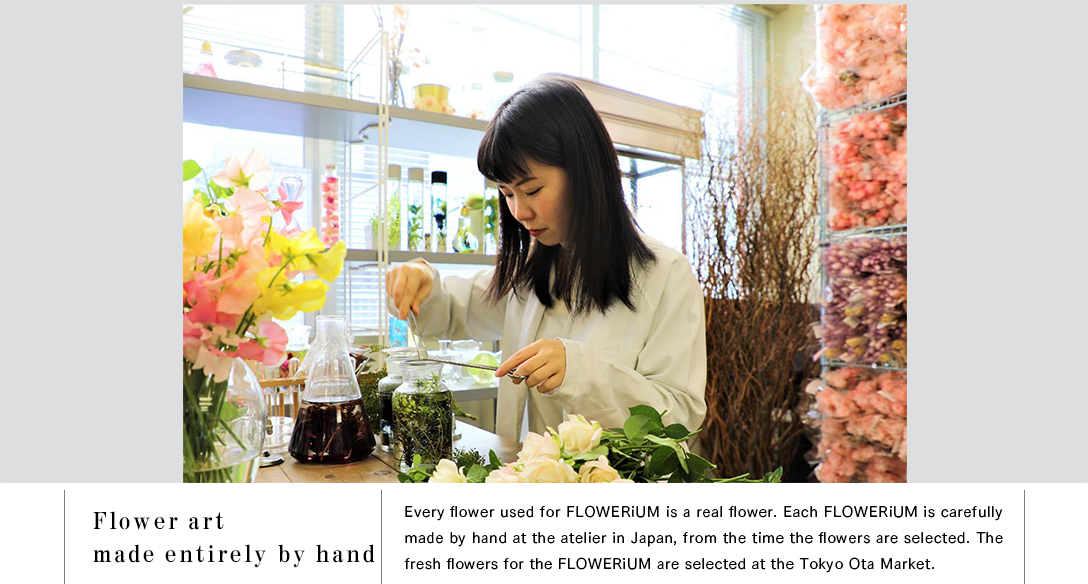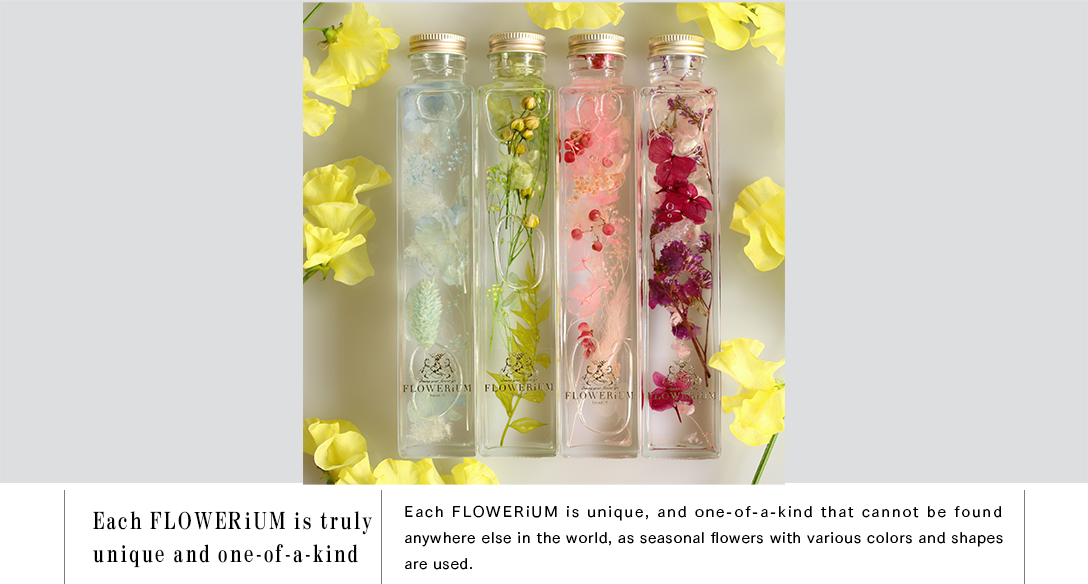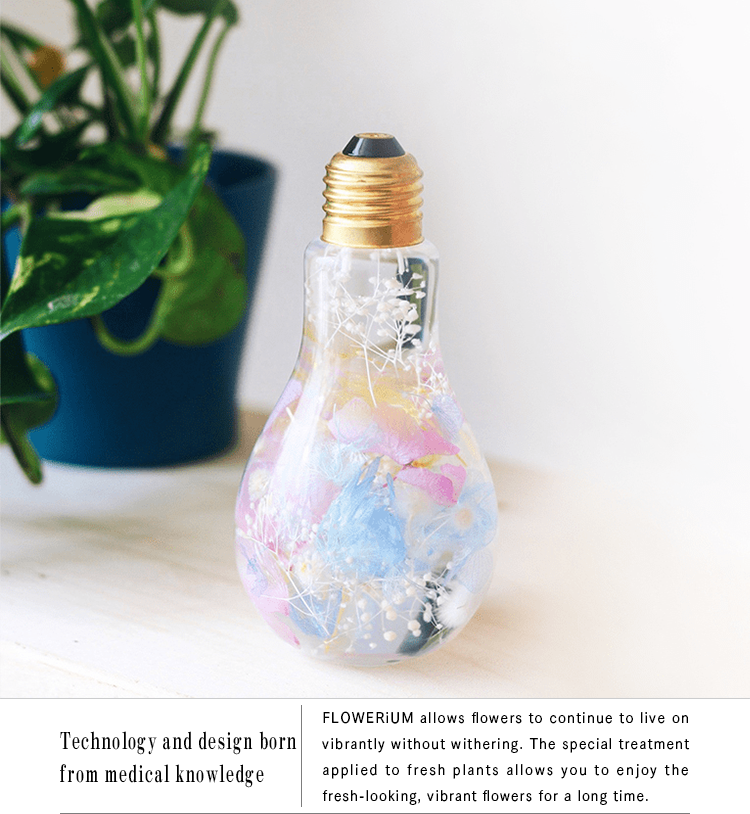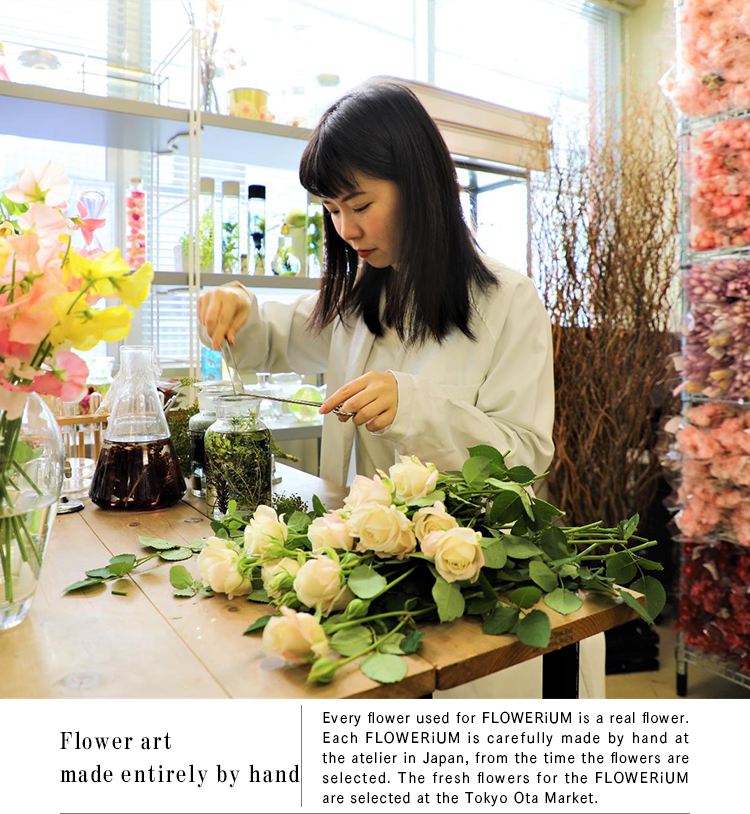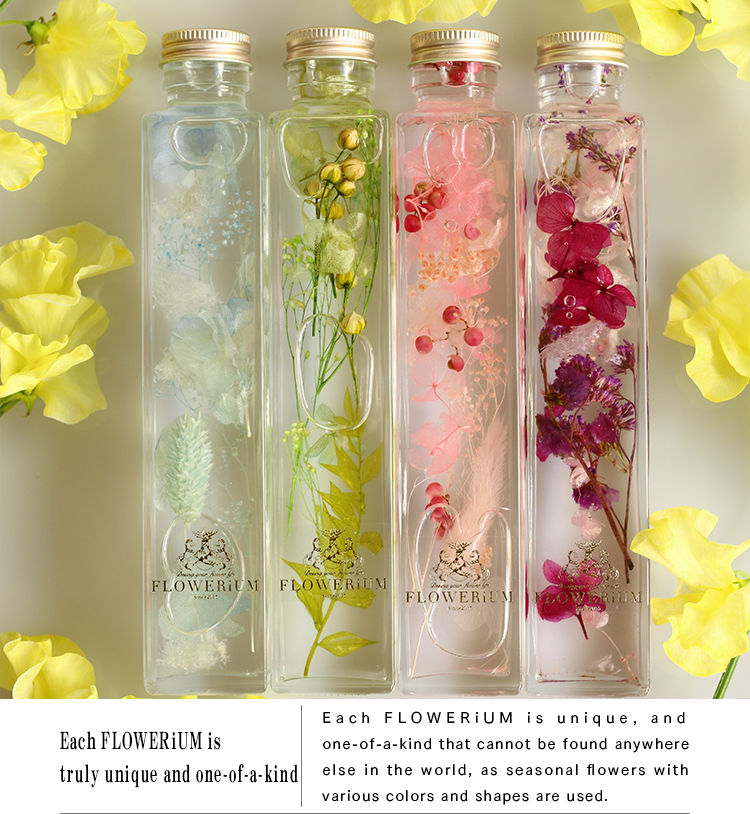 Greenery Co., Ltd.
President OKITSU Rie
A new kind of flower art created by "science × flowering."
The president of Greenery, Rie Okitsu, developed the flower art, FLOWERiUM that preserves real flowers for an extended period when she was involved in brain research at the Keio University School of Medicine. She continued to create various works after creating FLOWERiUM, and has been gaining attention as a "floristician" that touches people's hearts through the collaboration of "flowers and science."The FLOWERiUM's unparalleled beauty of the living flower moving in the water, and the completely original, mysterious world it creates allures people.
Greenery is a creative company that continues to strive to research and develop products daily with the desire to share flower art that touches people's hearts. While we are active in a wide range of areas, such as holding workshops and actively doing charity work in Kumamoto Prefecture, the birthplace of the president, we maintain our independent style as an original artist.
"I want to bring the power of life flowers have to someone special" Greenery President Rie Okitsu
FLOWERiUM is a flower art created from my desire to "bring the power of life flowers have to someone special." I have always been interested in flowers since I can remember. I observed many flowers every day, and my interest in plants continued to grow. This was because I had sensed an extraordinary power in the "life" in the short lives of the flowers that bloom only for a moment.
I later encountered great difficulties in life. Every time I was at a crucial time in someone's life, I saw how flowers could encourage people. I felt that people could be encouraged by flowers because it contains life. I began to desire to want to bring "flowers that give power to the lives of people" to many.
I began researching the "technology that continues to make living flowers live." Day and night, I searched for the best way to stop the time of the flowers in its most beautiful moment. One day, I tried preserving a flower by putting it in water. Seeing how the flower floated and moved in the water, I was shocked by the mysterious world and beauty that surpassed my imagination. This is how "FLOWERiUM," an unprecedented flower art created by water and flowers, was born.
FLOWERiUM that contains flowers with lives, will give courage to precious people by being beside them forever. My deepest desire is that through FLOWERiUM, many people will feel rejuvenated, having the desire to go on.
Contact
Founded

2017

Capital

1 million yen

Company Info

Manufacture and sell flowerium® / Wholesale flowerium®to department stores, retail stores, and other companies' EC sites
Greenery Co., Ltd. / President OKITSU Rie
〒110-0016 2FL, Ichimuradai2 building, 1-24-10, Taito, Taito-ku, Tokyo
Phone : 03-6264-9469 FAX : 03-6264-9469  Mail : info@floweium.jp